Jacksonville Jaguars 2022 preseason schedule: Analizing each oponent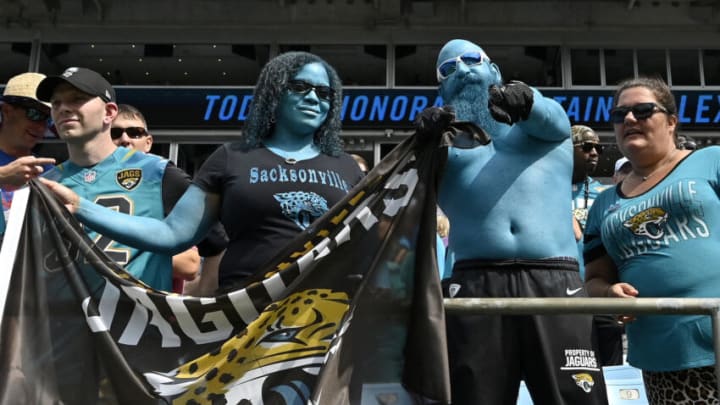 Fans cheer for the Jacksonville Jaguars at Bank of America Stadium on October 06, 2019. (Photo by Grant Halverson/Getty Images) /
The NFL preseason used to consist of four games but the league reduced the number to three went they expanded the regular season from 16 to 17 games last year. Nevertheless, the Jacksonville Jaguars will still have four games in 2022 because they will participate in the Hall of Fame exhibition matchup.
Sure, preseason games don't count in the standings and there aren't really any stakes at play. However, there are several reasons why the preseason is worth watching. With that in mind, here's a look at each one of the Jaguars' four preseason foes in 2022.
2022 Hall of Fame game: Jacksonville Jaguars vs. Las Vegas Raiders
Oakland Raiders fans and the Jacksonville Jaguars at Oakland Coliseum. Mandatory Credit: Darren Yamashita-USA TODAY Sports /
These two teams last faced off against each other back in 2019 and it was a meaningful encounter because the Jaguars' handed the Raiders a loss in what was their last game ever at the Oakland Coliseum.
Since then, both teams have experienced plenty of turnover but one thing remains unchanged for the Raiders, quarterback Derek Carr. In fact, he's one of their longest-tenured players. Unfortunately for Jacksonville, the former Fresno State Bulldog and his revamped wide reciever corps won't play much in the Hall-of-Fame game. On the bright side, both teams will see each other again later in the regular season, more precisely in Week 9.
The Jaguars will see rookie Travon Walker take the field for the first time, and they will get to see where's his at in his transition to edge rusher. Also, it will be the first time running back Travis Etienne takes the field since suffering a Lisfranc injury in the first game of last year's preseason.
Date and time: Thursday, August 4th at 8:00 PM EDT at Tom Benson Hall of Fame Stadium