Jacksonville Jaguars 2022 preseason schedule: Analizing each oponent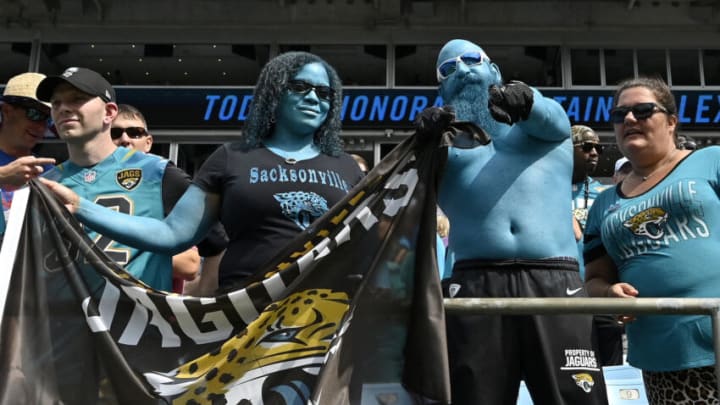 Fans cheer for the Jacksonville Jaguars at Bank of America Stadium on October 06, 2019. (Photo by Grant Halverson/Getty Images) /
Cleveland Browns fan in the Dawg Pound at Cleveland Browns Stadium. Mandatory Credit: Matthew Emmons-USA TODAY Sports /
2022 preseason Week 1: Jacksonville Jaguars vs. Cleveland Browns
The Jaguars would surely like to forget Week 1 of last year's preseason. Besides losing Travis Etienne for the whole year, Tim Tebow had a dreadful performance, one that showed he wasn't going to be able to cut it as a tight end and ultimately put the last nail in the coffin. Here's the former Florida Gator trying to block and in case you forgot. But hey, at least he tried.
https://twitter.com/Stadium/status/1426723315159375872?s=20&t=E4TMAiZkC-451m1wq7SAFg
If that wasn't enough, Urban Meyer got the spotlight because he showed he couldn't stand losing an exhibition game. Looking back, it was one of many signs of what ended up becoming a taxing season for the Jaguars. Coincidentally, Jacksonville will once again take on the Browns in Week 1 of the preseason and while it may feel like deja vu, there are reasons to think things will go very differently this time around.
For starters, Meyer is gone and Doug Pederson is in as the Jaguars head coach. This isn't his first rodeo, so he will know what kind of workload he will give to Trevor Lawrence and other key players. Also, he won't lose his cool if they aren't able to beat Cleveland.
Speaking of the Browns, it will be interesting to see who will be taking snaps behind center. Will Deshaun Waton have resolved his legal situation by then? Will Bake Mayfield still be on the roster? Those are questions nobody knows but will find out in Week 1 of this year's preseason.
Date and Time: Friday, August 12th at 7:00 PM EDT at TIAA Bank Field