5 HCs Jaguars could have hired in 2020 instead of Urban Meyer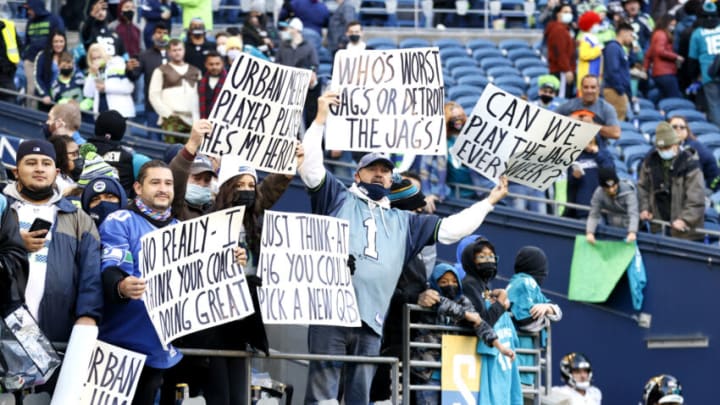 Fans of the Jacksonville Jaguars in Seattle, Washington. (Photo by Steph Chambers/Getty Images) /
Detroit Lions head coach Dan Campbell. Mandatory Credit: Raj Mehta-USA TODAY Sports /
No. 2 HC the Jaguars could have hired in 2020 – Dan Campbell.
For a moment, it looked like the Detroit Lions be the first NFL team to go 0-17 in a season. However, they kept fighting and they are now 2-11-1. That's a better record than the Jaguars and you could make the case the Detroit Lions have a worse roster than them.
So why are have the Lions been able to get out of the league's cellar? It's all due to Dan Campbell's resilience. The head coach is the polar opposite of Meyer, proving he cares about his players and the team. During the offseason, he would pull a few stunts to get the spotlight on him, not his players. That's what a leader does. He knew the mess he was getting into when he accepted the job and didn't care.
Despite being given a bad hand, Campbell has the Lions playing hard for him, and that's something Meyer wishes he could have done in Duval. Campbell has gotten emotional more than once after close losses and the team's first win. Meanwhile, Meyer was shown being a bad sport after losing to the Tennessee Titans in Week 14.
The Lions are poised to have two first-round picks next offseason. They will also have enough cap space to make a few moves in free agency. They already got the right head coach in place. They now need to give him a few playmakers to work with.