Jaguars: Questions remain after a 6-10 season for Jacksonville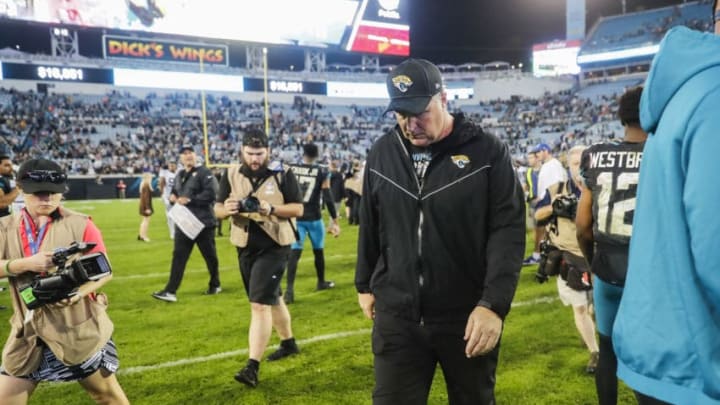 JACKSONVILLE, FLORIDA - DECEMBER 29: head coach Doug Marrone of the Jacksonville Jaguars exits the field after defeating the Indianapolis Colts in a game at TIAA Bank Field on December 29, 2019 in Jacksonville, Florida. (Photo by James Gilbert/Getty Images) /
JACKSONVILLE, FLORIDA – DECEMBER 29: Excited fans of the Jacksonville Jaguars after the team quickly scores back-to-back touchdowns against the Indianapolis Colts in the fourth quarter at TIAA Bank Field on December 29, 2019 in Jacksonville, Florida. (Photo by Harry Aaron/Getty Images) /
Despite a huge 38-20 win over the Indianapolis Colts on Sunday, there are still questions left unanswered by the Jacksonville Jaguars.
It looked as though Jaguars head coach Doug Marrone could exhale, even if it was for the moment.
A 38-20 win in the final game of the season. A sigh of relief that the 2019 season had come to an end and a real possibility he will remain here in Jacksonville next season.
This has been one of the more tumultuous seasons in Jacksonville's history. And with the offseason about six weeks away, the front office, whatever might be left of it, is preparing for what comes next – which really is anyone's guess.
More from Jacksonville Jaguars News
""Just to kind of give you [an overview for] the week, I think it's important to understand the week we took to prepare.  Obviously, for today's game, we all made sure we understood [the situation] and take accountability for the season. What we tried to focus on, all week long with the players, was making sure that 'Let's not let the past stuff dwell during the week.  Let's have an opportunity to know what it feels like to play at home, to win a game in front of the fans and to play, not for coaches or family or anything else, but play for each other in that room.'  That was really what I talked about to the players [about]." Marrone said after the game Sunday night. "I talk to them about enjoying this moment. We'll all have a long time to reflect on the season, but at least from now until whenever we start the offseason, which obviously starts when the last ball is snapped, the guys in that locker room can feel good about something.""
It was a good feeling for those fans in the stands who saw the Jaguars score the most points in a game all season. Amid so much turmoil this season, and with key players injured for the game, the Jaguars showed they could move through adversity.
""I have a lot of respect for Coach Marrone," Calais Campbell said following the game. "He kept us together through all the thick and thin, ups and downs this season and kept us focused. Obviously, we didn't play as good as we wanted to this whole season but being able to finish all that we have and stay together is really a testament to his coaching ability. I think we can win a Super Bowl with him as our head coach.""
Now comes the offseason and plenty of decisions to be made. Here is a look at key questions this organization must answer in the offseason.