Nick Foles is the franchise quarterback the Jaguars Need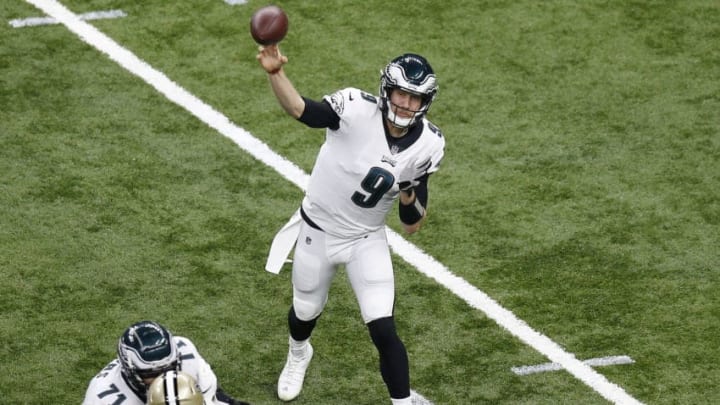 NEW ORLEANS, LOUISIANA - JANUARY 13: Nick Foles #9 of the Philadelphia Eagles attempts a pass during the first quarter against the New Orleans Saints in the NFC Divisional Playoff Game at Mercedes Benz Superdome on January 13, 2019 in New Orleans, Louisiana. (Photo by Jonathan Bachman/Getty Images) /
Is Nick Foles the franchise quarterback the Jacksonville Jaguars need to be successful in 2019?
The potential impending signing of Nick Foles has just become the latest buzz in Jacksonville. Defense alone isn't enough to win a championship in today's NFL. The Jaguars are a team that has been in need of a franchise quarterback, honestly since the team has been established in 1993. Mark Brunell is the closest thing that the Jags have had to a leader.
Byron Leftwich was drafted to become that guy, he didnt pan out, David Garrard made a playoff appearance, but was't the answer. Blaine Gabbert was drafted, but was a flop, Chad Henne came and went, finally Blake Bortles was drafted to be the quarterback to lead Jacksonville to the promise land, but he broke all of our hearts. Now, finally it seems the Jags may have found a guy who can bring Jacksonville the success the city deserves.
For Nick Foles, this is a goal that will finally be realized. Leading a team to a Super Bowl again is the ultimate goal. However, having a team believe in him at the beginning of the season brings added  responsibility and pressure.
When speaking with ESPN's Tim McManus, Foles seemed to be more than ready to accept that role.
More from Jaguars Free Agency
""I would love to lead a team," Foles said at the close of the 2018 season. "The starter thing, leading a team, impacting a locker room … that's why we play the game — to impact people, to create an atmosphere.""
Foles isn't the typical franchise quarterback, he's bounced around a few teams, he was a Pro Bowl quarterback, he was a backup, and he was a Super Bowl MVP. Foles has gone through the full spectrum of roles that were asked of him. Now it is time for him to assume his role as the leader of a franchise.
Many doubters will say that Foles is too old to be a franchise quarterback, however there have been plenty of quarterback's who joined teams later in their career and found success. Kurt Warner began his career in St. Louis at 27 years old, then found success in Arizona. Brett Favre was the longtime face of the Packers franchise before leaving for New York, and then once again was dominant in Minnesota. Peyton Manning won a Super Bowl and an MVP award  in Indianapolis and in Denver.
Many forget that Drew Brees spent his first 5 seasons in San Diego before he was the face of New Orleans. Foles could join the ranks as someone who joined a franchise later in their career and found success.
The Jaguars are a team that has the talent to win a championship. Blake Bortles was too turnover prone to deliver that championship. Foles however will not make those mistakes. Some will say that his time with St. Louis means that he won't be successful for the Jaguars. They will say that he couldn't be successful outside of the Eagles system.
There are two reason's as to why that argument is invalid. Most of that blame for Foles struggles could be placed on the shoulders of his head coach Jeff Fischer, at the time Todd Gurley was in his rookie season, and the teams best receiver was a toss up between Kenny Britt who had 681 yards receiving or Tavon Austin who had 473 receiving yards and a team leading 5 touchdowns.
Fisher's offensive scheme was remarkably bad. The season after Foles left, Jared Goff took the reins and had a worse season than Foles. Gurley, an MVP candidate this season and one of the most talented players in the league, only averaged 3.2 YPC. Fisher was a bad offensive coach, and that haunted Foles for his whole career.
Since leaving the Rams and Fisher's putrid offense, Foles has appeared in 15 regular season games, throwing 15 touchdowns and 6 interceptions. He as also started 9 games and holds  a record of 7-2. Lets not forget the amazing Super Bowl run he went on, winning Super Bowl MVP and defeating Tom Brady.
Worries about Foles being a system quarterback should be eased as well. The Jaguars signed John DeFilippo as offensive coordinator. He won a championship with DeFilippo as his quarterback coach. DeFilippo and Foles already have chemistry with each other, this match is a perfect stepping stone for the Jaguars to contend for a championship.
Nick Foles has already proven that he can go toe to toe with the greats when he defeated Tom Brady in the Super Bowl. He has proven he can thrive in DeFilippo's offense by taking control of the Eagles offense when Carson Wentz was hurt. He has proven that he can perform well in the playoffs by winning a Super Bowl.
Nick Foles has proven that he can overcome adversity by being a Super Bowl winning quarterback despite being a backup for most of the year. He will have some doubters coming into this season, but he has proven those doubters wrong before, now Nick will be in a familiar position to silence the doubters once again.