Jacksonville Jaguars vs. Seattle Seahawks: Keep Your Enemies Close – 5 Questions with 12th Man Rising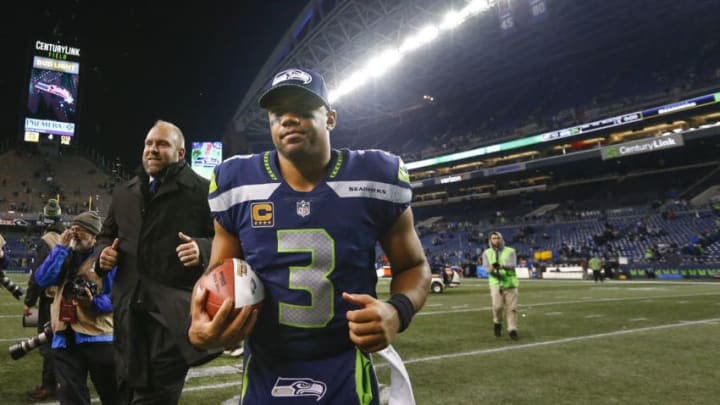 SEATTLE, WA - DECEMBER 03: Russell Wilson /
SEATTLE, WA – DECEMBER 03: Russell Wilson /
Tied for first place in the AFC South, the Jacksonville Jaguars face a tough test this week as they host Russell Wilson and the Seattle Seahawks.
The Jacksonville Jaguars are at 8-4 and have guaranteed themselves their first non-losing season since 2010. They have no time to sit back and celebrate however, as they have a huge hurdle ahead of them in the form of the Seattle Seahawks.
More from Jacksonville Jaguars News
Russell Wilson took the proverbial yellow jersey from Carson Wentz in the MVP race last week and there's little reason to believe he's going to slow down anytime soon. The Jaguars are going to have their hands full this week against the Super Bowl champion signal caller.
We wanted to get some intel on our opponent so we reached out to Lee Vowell over at 12th Man Rising. Here's what he had to say:
1. Despite a banged up backfield and an underwhelming offensive line, quarterback Russell Wilson has excelled – how has he done it?
"Let's be honest. If Wilson were not the quarterback of the Seahawks, Seattle would have maybe four wins. He has been involved in every one of Seattle's offensive touchdowns- either running or passing – this year except one. He may not win the NFL MVP award, but there is no player more valuable to his team than Wilson is to Seattle. That said, to answer your question the simplest answer is that Seattle allows Wilson to be Wilson. Seattle builds in the chaos factor into its offense. Basically, many times when Wilson goes back to pass craziness will ensue. Receivers Doug Baldwin, Tyler Lockett and Paul Richardson have now played with Wilson long enough to break off routes and get open when Wilson scrambles. Plus, Jimmy Graham and Wilson have found the red zone answer to the question, "Why not throw Jimmy the ball at the goal line?""
My take:
Wilson has always taken some criticism for not always playing in the pocket, but who cares if he's going to produce like this. As Lee says, it's hard to imagine how this Seattle offense would function without Wilson simply because they don't have much of a running game.