Jacksonville Jaguars vs. Cincinnati Bengals: Friday Fact or Fiction for Week 9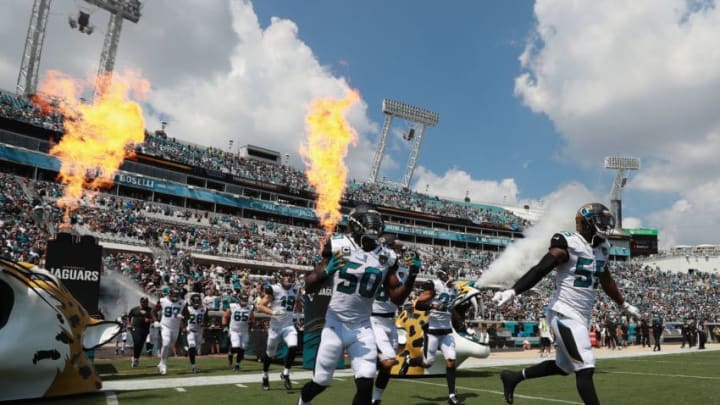 JACKSONVILLE, FL - SEPTEMBER 17: The Jacksonville Jaguars take the field prior to the start of their game against the Tennessee Titans at EverBank Field on September 17, 2017 in Jacksonville, Florida. (Photo by Logan Bowles/Getty Images) /
JACKSONVILLE, FL – SEPTEMBER 17: Head coach Doug Marrone of the Jacksonville Jaguars looks to the field during the first half of their game against the Tennessee Titans at EverBank Field on September 17, 2017 in Jacksonville, Florida. (Photo by Sam Greenwood/Getty Images) /
The door is wide open for the Jacksonville Jaguars to step in and win the AFC South. Their first step is today against an underwhelming Cincinnati Bengals squad.
The Jacksonville Jaguars historically haven't been very active at the trade deadline. In recent seasons that has made sense – the Jaguars haven't been real contenders so there was little logic in making a move to try and get better in the short term if it cost anything in the long term (draft picks).
More from Jacksonville Jaguars News
In 2017, the Jacksonville Jaguars are fully in "win-now" mode. Executive VP Tom Coughlin and his braintrust have turned the Jaguars into defensive juggernauts in one season and the team has a real shot to win the AFC South handily.
The front office decided to double down on 2017 by making a move to try and cement the Jacksonville defense as the best in the NFL. Adding Marcel Dareus helps the defense against both the run and the pass, but the former All Pro defensive tackle was brought here for one reason – stop the run.
While questions are still abound about the offense, the Jaguars now have a Super Bowl caliber defense. If Blake Bortles can bring up his play to that of a league-average starter, the Jaguars have as much a chance as anyone else.
Blake has a big test this week, as the Bengals boast a pretty decent defense. Like Jacksonville, the offense has been the problem in Cincinnati, unfortunately their defense hasn't been nearly as dominant.
Bortles was solid against the Colts two weeks ago, but they are an awful football team.
So what's going to happen this week? Will Blake step up and have a good game against a good defense? Or will he wilt under the pressure at home?  Click ahead to read my notorious, always correct predictions for week 9: