Jacksonville Jaguars vs. Cincinnati Bengals: Friday Fact or Fiction for Week 9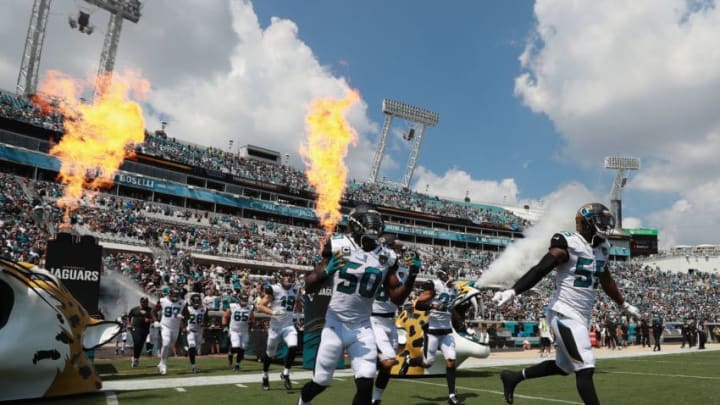 JACKSONVILLE, FL - SEPTEMBER 17: The Jacksonville Jaguars take the field prior to the start of their game against the Tennessee Titans at EverBank Field on September 17, 2017 in Jacksonville, Florida. (Photo by Logan Bowles/Getty Images) /
ORCHARD PARK, NY – SEPTEMBER 30: Marcell Dareus /
Marcel Dareus will have a sack: FACT
The Buffalo Bills traded Marcel Dareus presumably because they didn't need him and they didn't think he was worth the headache.
The Bills allowed the New York Jets to rush for 194 yards and only sacked Josh McCown once in a  21-34 loss last night.
Clearly the Bills missed Marcel Dareus and it's pretty obvious why – Dareus is an enormous human being who can be the best defensive lineman in the NFL at his best.
There's a lot of baggage with Dareus – he's gotten into trouble off the field, he's in line for a huge suspension if he gets caught with a banned substance again, and his contract is even bigger than his frame.
That being said – Dareus should be motivated to play on the most talented defense in the NFL and show the front office that he's worth keeping at his substantial cap number.
The Bengals' offensive line has been atrocious this season and the interior of the line is going to have their hands full with Malik Jackson and Dareus.
The Jaguars put up 10 sacks twice this season (week 1 against the Houston Texans and week 7 against the Indianapolis Colts). They won't get 10 this week, but they'll get theirs – and Dareus will be in the mix.