Jacksonville Jaguars vs. New York Jets: Friday Fact or Fiction for Week 4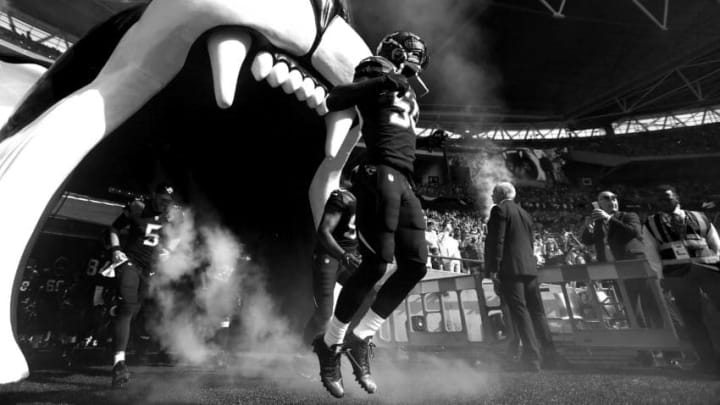 LONDON, ENGLAND - SEPTEMBER 24: EDITORS NOTE: A black and white filter has been added turnover this image) Dante Fowler of the Jacksonville Jaguars makes his way onto the field during the NFL International Series match between Baltimore Ravens and Jacksonville Jaguars at Wembley Stadium on September 24, 2017 in London, England. (Photo by Alex Pantling/Getty Images) /
LONDON, ENGLAND – SEPTEMBER 24: Leonard Fournette of the Jacksonville Jaguars breaks through the Baltimore Ravens defence during the NFL International Series match between Baltimore Ravens and Jacksonville Jaguars at Wembley Stadium on September 24, 2017 in London, England. (Photo by Matthew Lewis/Getty Images) /
Leonard Fournette will have a run longer than 20 yards: FACT
17 yards.
That's the longest run of Leonard Fournette's young career, and in reality it's actually somewhat impressive. Fournette has face more 8+ man boxes than any other running back in the league and he's done it with moderate success.
In reality, Fournette has played leaps and bounds better than his raw statistics would imply (3.5 yards per attempt). The Jaguars have been very open about their offensive strategy and teams know to gear up to stop the Jacksonville running game early and often.
Heading into the this week, it might not matter.
As Larry Brake, Black and Teal alum and current writer over at NFL Spin Zone points out, the Jets aren't exactly set up well to stop Fournette:
"First, the Jets run defense is ranked 27th. They are giving up an average of 133.3 yards per game.  Expect the Jets to stack the box due to the threat of Fournette running wild. Next, the Jaguars offensive line is better than expected. Football Outsiders ranks the Jaguars line as the No. 5 run blocking unit through Week 3. There should be gaping holes and seams for Fournette to run through, especially since the site ranks the Jets defensive line at eighth."
I expect Fournette to break at least one 20+ yard run and put together a productive day on the ground.