Jacksonville Jaguars vs. New York Jets: Friday Fact or Fiction for Week 4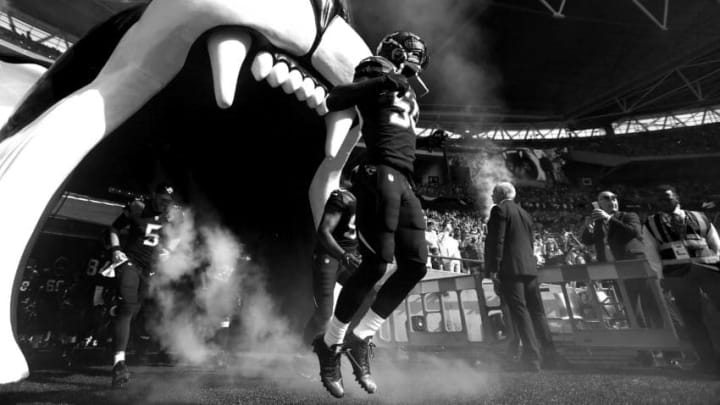 LONDON, ENGLAND - SEPTEMBER 24: EDITORS NOTE: A black and white filter has been added turnover this image) Dante Fowler of the Jacksonville Jaguars makes his way onto the field during the NFL International Series match between Baltimore Ravens and Jacksonville Jaguars at Wembley Stadium on September 24, 2017 in London, England. (Photo by Alex Pantling/Getty Images) /
JACKSONVILLE, FL – SEPTEMBER 25: Blake Bortles /
Blake Bortles will throw an interception FICTION
Yes, another positive prediction!
Does this mean the Jaguars have roped me in? Mostly – the last hurdle for me is still the quarterback.
It's hard not to be impressed with Blake Bortles and what he did to a presumably top flight defense over in London. Credit has to go to the offensive line for blocking well and the offensive coaching staff for some outstanding play design, but Bortles was as accurate and efficient as any of us have ever seen.
Under Doug Marrone, Bortles has been a completely different quarterback. While his performance in week 2 against the Titans initially seemed to be another indication of Bortles' regression, it might end up being an anomaly. Bortles has a 3-2 record with Marrone as head coach,which jives with his 8-2 touchdown-to-interception ratio and his 96.6 passer rating over that span.
I think Bortles has plenty of confidence coming out of London and will play well yet again.
Next: Who has been better: Bortles or Flacco?
It only took 3 weeks but the Jaguars did it – they roped me in.
I was somewhat skeptical after week 1 because it appeared to be a one-sided performance with the defense carrying the load, but last week's game showed what the Jaguars can do when things are clicking on offense.
This prediction is also a reflection of the opponent. I don't think the Jets are very good and it's hard to envision them winning two games in a row with that roster.
The Jags get escape from New York with a solid win this week.
PREDICTION: Jaguars 23 – Jets 13