Jacksonville Jaguars keep QB room together, re-sign CJ Beathard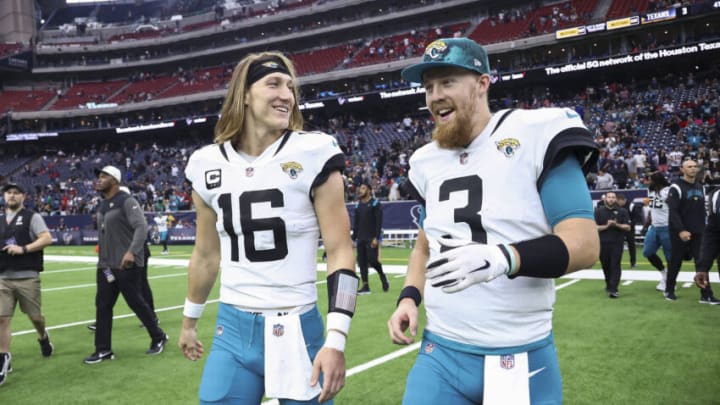 Jacksonville Jaguars quarterback Trevor Lawrence (16) and quarterback C.J. Beathard (3) at NRG Stadium. Mandatory Credit: Troy Taormina-USA TODAY Sports /
It wasn't the signing fans and tight end Evan Engram expected but the Jacksonville Jaguars just announced they've brought back veteran quarterback C.J. Beathard. They announced the move on their official webpage and later posted a picture of him signing his new deal.
A third-round pick by the San Francisco 49ers in the 2017 NFL Draft, Beathard signed a two-year deal with the Jags in 2021 and became their top backup when they traded Gardner Minshew to the Philadelphia Eagles before the start of the regular season. While Beathard has only attempted 13 passes for Jacksonville, his presence has been invaluable in their quarterback room.
Offensive coordinator Press Taylor has previously praised Beathard, noting that there's not anything he cannot do". Taylor came close to starting against the Tennesse Titans in Week 14 while Trevor Lawrence was recovering from a toe injury he suffered. At the time, Taylor said he had lots of belief in Beathard and added that the offense would've been fine if he had made the start in relief of Lawrence.
While the terms of Beathard's new contract haven't been publicly disclosed, there's a good chance they will be similar to the $5 million he got in 2023, with possibly a slight raise. Here's the pic of Beathard signing his new deal.
CJ Beathard gives the Jaguars a veteran presence at quarterback
Backup quarterback is the second most important position on a football team. After all, they're just one injury away from taking the field, so clubs need to ensure they have someone competent in place in case the starter goes down. While there will be several options in the open market, most of them will be significantly more expensive than Beathard.
All things considered, it makes sense to bring back Beathard, who knows Pederson's system and can step in at any time if Lawrence misses a couple of games. On the other hand, re-signing Beathard shouldn't stop the Jacksonville Jaguars from using a late-round pick on a developmental prospect in this year's draft.
Sure, quarterback is probably the one position Jacksonville doesn't have to worry about after re-signing Beathard and with Trevor Lawrence firmly entrenched as the starter. However, it's always a good idea to look for potential late-round gems in the draft every year.
The Jaguars won't be able to bring back all of their free agents, but they have at least found a way to keep Beathard. Engram should be next.