PFF highlights Jacksonville Jaguars RB Travis Etienne impact in 2022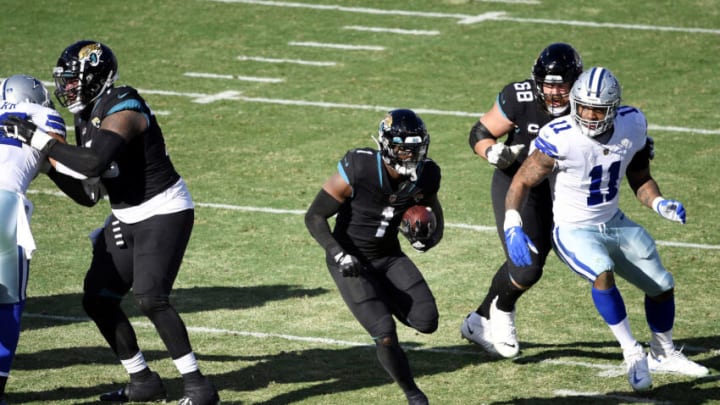 Jacksonville Jaguars running back Travis Etienne Jr (1) at TIAA Bank Field. Mandatory Credit: Melina Myers-USA TODAY Sports /
Travis Etienne got off to a slow start in the 2022 regular season but the Jacksonville Jaguars were confident he could be a top running back and traded James Robinson to the New York Jets. At the time, it was hard to tell if the decision would pay off but Etienne rewarded the Jags with a productive campaign, one that Pro Football Focus highlighted in a recent post on social media.
Etienne's 87.7 PFF overall grade ranked 21st in the league and was the highest among running backs in the AFC South. Moreover, he had 220 rushes for 1,125 yards with five touchdowns and an average of 5.1 yards per carry, which was better than Jonathan Taylor's (4.5), Derrick Henry's (4.4), rookie Dameon Pierce's (4.3), and Jonathan Taylor's.
Henry had the second-most yards (1,538) in the NFL in 2022 but it's hard to tell how much time he will remain at the top, especially when you take into account that he's dealt with injuries over the last two years. In fact, it wouldn't be shocking to see Etienne lead all AFC South running backs in yards and even touchdowns next season.
Jacksonville Jaguars RB Travis Etienne proved his worth in 2022
On a side note, PFF isn't the only outlet that has recently recognized Travis Etienne. Seth Walder of ESPN drew a list of the top 100 most valuable players (paywall) in the NFL and Etienne, along with Trevor Lawrence and cornerback Tyson Campbell, made the cut.
A first-round pick in the 2021 NFL Draft, Etienne missed his rookie campaign after suffering a Lisfranc injury in the preseason. Getting hurt must've been frustrating for the former Clemson Tiger but the silver lining is that he had plenty of time to recover for the 2022 season. He progressively got healthier and was ready to go for the opener.
However, Etienne started the season behind James Robinson and racked up a total of 26 carries in the first three weeks. Surprisingly (or maybe not), his workload eventually increased to the point that Robinson was phased out.
Head coach Doug Pederson told the media Monday that he liked what Etienne brought to the table this past season and suggested that he could be even better next year.
I like Travis coming off the injury of the foot and putting the year together with the yards and everything", Pederson said. "He ran tough, he's a physical guy. I really liked where he was at, catches the ball well. He did some great things there".
"I think this would be a good offseason because he won't have to rehab as much and he can focus on getting better as a football player but there are always ways to improve. As we look at this spring as a staff, we'll put a list of objectives for each player moving forward that we'll send that to the guys, especially when they get back here, the offseason program to work on but I really like what he did for us this year", Pederson said.
Etienne made the most of his chance when the Jacksonville Jaguars traded Robinson and if he picks up where he left off last year, he could have a Pro Bowl-caliber season in 2023.