3 things Jaguars must be thankful for in Thanksgiving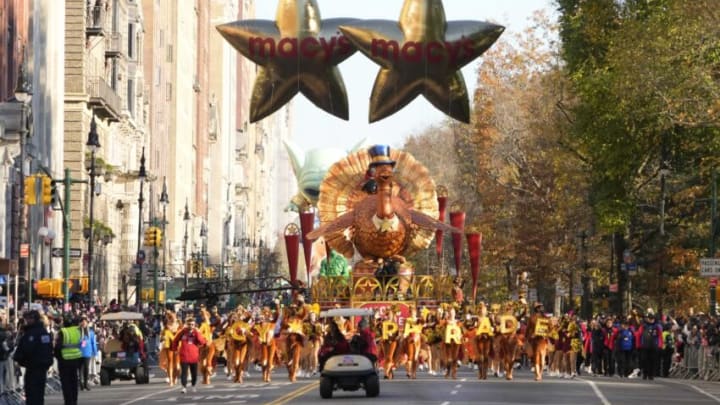 The Tom Turkey float is seen at the 2022 Macy's Thanksgiving Day parade on Central Park West in New York. /
Head coach Urban Meyer of the Jacksonville Jaguars (Jasen Vinlove-USA TODAY Sports) /
1. The Jaguars are no longer making headlines for the wrong reasons
Jaguars owner Shad Khan hired Urban Meyer for his ability to turn college programs around. Although Meyer came to the NFL with plenty of baggage, he deserved the benefit of the doubt. However, his actions quickly showed that Khan had made a big mistake and the Jags ended up paying a hefty price for it.
Right off the bat, Meyer hired Chris Doyle as his director of sports performance. But Doyle had no business working with the player due to a history of bullying and racial remarks. Meyer was only getting started though and the worst was yet to come. He quickly drew sideways looks from his peers around the league for bringing in Tim Tebow to try out as a tight end and his outdated coaching methods.
During the season, he was caught on camera being inappropriate with a young woman and got in a heated argument with wide receiver Marvin Jones Jr. He also benched running back James Robinson, one of the Jaguars' best players.
Meyer often forgot his players' names and often confused their opponents, Phoenix Cardinals anyone? But the straw that broke the camel's back was when former kicker Josh Lambo told the media Meyer had kicked him during warmups and cussed at him. Not long after the allegations surfaced, the Jaguars gave Meyer the boot.
It's telling that Meyer lasted less than a year when Gus Bradley and Doug Marrone had plenty of leeway. But that goes on to show how bad Meyer was during his short stint in the pros.
With Pederson at the helm, the Jaguars haven't made many headlines. One of their reason is their losing record but not having to deal with Meyer also plays an important role and everybody should be thankful for that.