Jaguars take on Broncos at Wembley Stadium: Odds and prediction for Week 8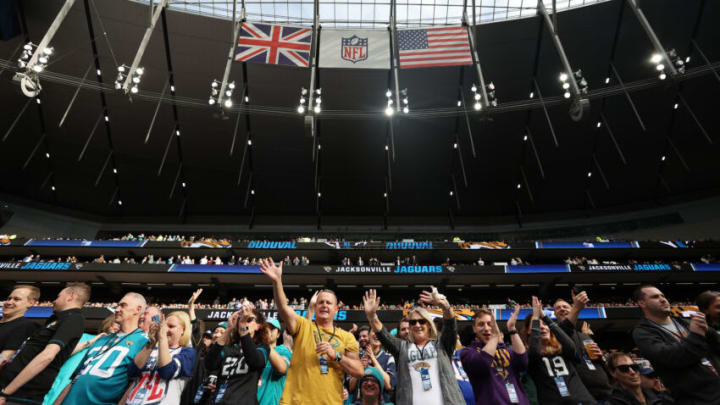 A general view during the NFL London 2021 match between Miami Dolphins and Jacksonville Jaguars at Tottenham Hotspur Stadium. (Photo by Alex Pantling/Getty Images) /
Even though the Jacksonville Jaguars were favored to win the last two games, they lost both of them. In Week 8, they'll have the chance to buck the trend when they travel to England as part of the NFL International Series to face off against the Denver Broncos at Wembley.
Head coach Doug Pederson told the local media Monday he's looking forward to making the trip and sees it as an opportunity for players that don't travel much to meet London.
"We're thrilled to be other there and to be able to take your team", Pederson said. "There's a lot of guys that don't get the chance to travel outside the country and it's a great way for them to experience a new city. London's a great city, and play football over there".
"Some great fans over there, NFL fans I mean, you're gonna see jerseys from all 32 teams. That's what's the beauty of going over there. The excitement of going over there, so we know we're gonna go there. We're excited about it, looking forward to it, and might be good for us", Pederson said.
With that in mind, here are the odds and a final score prediction for the Jaguars' Week 8 matchup against the Broncos.
Jaguars vs. Broncos odds and spread for Week 8
For the third week in a row, the Jaguars are favorites. This time, it's by three points, per Betsided. Their moneyline is set at -160. Bet $160 on them and win $100 for a total payout of $260 if they beat Denver. The Broncos' moneyline sits at -135. Place a wager of $100 on the Broncos and win $135 for a total of $235 if they beat Jacksonville. The over/under for the game is 39 points, so bettors must not think this is going to be a high-scoring affair.
Jaguars vs. Broncos score prediction for Week 8
All the Jags' losses this season have come in winnable games and although they came close they ultimately fell short. They came up one yard short against the G-Men, so it's clear they're making strides.
This writer thinks Jacksonville will be able to finally put it all together and beat a Broncos team that is struggling to move the ball and put points on the scoreboard regardless of who plays quarterback. Before Russell Wilson got hurt, he was struggling and Brett Rypien wasn't much of an upgrade in Week 7, completing 52.2 percent of his passes for 225 yards with one interception.
Broncos head coach Nathaniel Hackett says Wilson is trending in the right direction to play Sunday but it's truly Denver's stout defense the Jaguars need to be concerned about. They currently rank second in yards allowed and third in points surrendered.
The Broncos' offensive ineptitude has overshadowed the success their defense has had this season. However, the Jaguars have enough talent on offense to go toe-to-toe with Denver and get back in the win column in Week 8.
Final score: Jaguars 21 – Broncos 17