Jaguars trailing the Giants at halftime, LT Cam Robinson back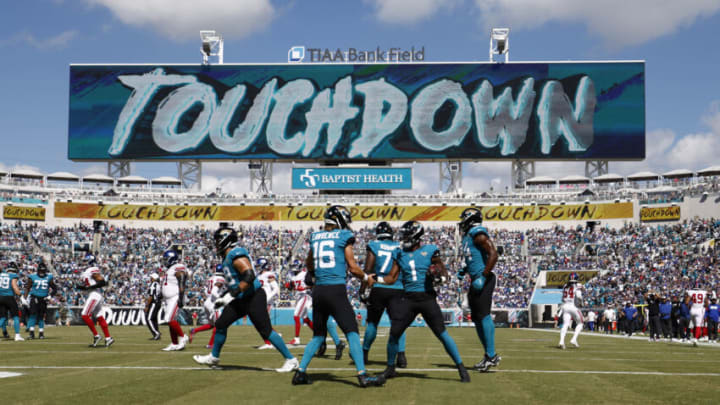 Jacksonville Jaguars running back Travis Etienne Jr. (1) at TIAA Bank Field. Mandatory Credit: Douglas DeFelice-USA TODAY Sports /
The Jacksonville Jaguars are doing what they can to end a three-game losing streak. However, it's not been enough to fend off a New York Giants team that is leading 13-11 at halftime and looking for their sixth win of the year.
Running back Travis Etienne scored his first NFL touchdown and helped Jacksonville get on the scoreboard in the first quarter. He was close to taking his second trip to the end zone later in the game but ended up fumbling near the goal line and the Giants recovered.
While the former Clemson Tiger has done a good job of generating big plays when he's given the chance, losing the ball near the goal line could come back to haunt the Jags later in the game. Left tackle Cam Robinson had to exit the game for a bit but eventually returned near the end of the first half.
Robinson, who signed a three-year deal worth $54 million earlier in the year, has been a mainstay of the Jaguars' offensive line this season, starting all seven games. On the bright side, if the Alabama product were to miss time, Jacksonville has an adequate replacement in Walker Little, a second-round pick in last year's draft.
Little competed with Jawaan Taylor for the right tackle job in the offseason but ultimately lost. However, he's lined up on the left side throughout his career, the Jags shouldn't miss a beat with Robinson out.
The Jaguars need to step on the gas pedal in the second half vs. the Giants
Trevor Lawrence went 13-of-21 for 182 yards with no touchdown and no interceptions in the first half. He did a good job of moving the ball in the first quarter but not so much in the second. The Jags' offense stalled in their second drive of the game, which led to a field goal instead of a touchdown. Later, Jacksonville had a chance to put some points on the scoreboard before halftime and attempted a hail mary but they came out empty-handed.
On the other hand, the defense also needs to step up, quarterback Daniel Jones is giving them a hard time, and three of their four possessions in the first half ended in points. Sure, two of those were field goals but the point stands. They must come up with a few big plays, something they haven't done in a while.
If the Jags' offense can move the ball and the defense create a couple of takeaways, they should be able to win this one. But they need to wake up. Otherwise, they will extend their losing streak to four games.