Jaguars earn familiar spot in 3 Power Rankings ahead of Week 1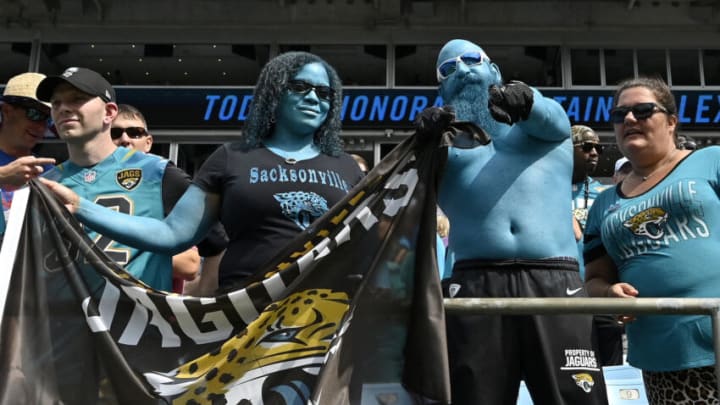 Fans cheer for the Jacksonville Jaguars at Bank of America Stadium on October 06, 2019. (Photo by Grant Halverson/Getty Images) /
The Jacksonville Jaguars made several important moves in the offseason and look in pretty good shape ahead of Week 1 of the 2022 NFL season. However, they weren't the only team that has improved these past few months and that's reflected in most power rankings.
The Bleacher Report staff put together a power ranking and Jacksonville popped up at 26. B/R says the Jags "might be on the right track" following the Urban Meyer fiasco.
"There are reasons to think Jacksonville might be on the right track. The team has a Super Bowl-winning coach in Doug Pederson. The addition of wide receiver Christian Kirk and a healthy Travis Etienne Jr. beefed up the weaponry at Trevor Lawrence's disposal. And per John Oehser of the team's website, Jacksonville's second-year quarterback is eager to show that last season's struggles are behind him."
That's a pretty good overview of the Jaguars. However, B/R argues that it's important to keep expectations in check, as they haven't won more than six games in a season since 2017. On the other hand, they say the 2022 Jags could be tougher than others realize.
The Jaguars need to win games in 2022 to move up in NFL Power Rankings
Pete Prisco of CBS Sports and Dan Hanzus of NFL Media also got into the Power Ranking fun and they placed the Jaguars at No. 26 and 29. Hanzus' ranking of the Jags might seem particularly harsh but he echoes what most analysts think of them entering Week 1. He says that Jacksonville "could be hanging around in the division race come December". However, he says he needs to see them make some noise before "getting too amped up about the idea".
The truth is that Hanzus isn't alone. It's easy to see teams build a 'dream team' in the offseason only to see them collapse once the games start. The Jags did more than many clubs in the free agency, and they could leave the cellar in what figures to be a weakened AFC South. But the Tennesee Titans and the Indianapolis Colts are the teams to beat in the division until proven otherwise.
Also, the Jaguars must remain healthy. You could say that about most teams but more often than not, those that major serious injuries are the ones competing in the playoffs. Do you think Jacksonville would have shot with C.J. Beathard at the helm? No disrespect to Mr. Beathard but Trevor Lawrence is one of the main reasons Jacksonville could turn out to be good as soon as 2022 and without him, their chances of winning games will decrease considerably.
Doug Pederson has the Jags on the right path and they have made important strides under his direction. But they still need to play games before they get ranked higher. They will get their first chance in Week 1, when they take on the Washington Commanders.