Jacksonville Jaguars practice squad tracker for 2022 NFL season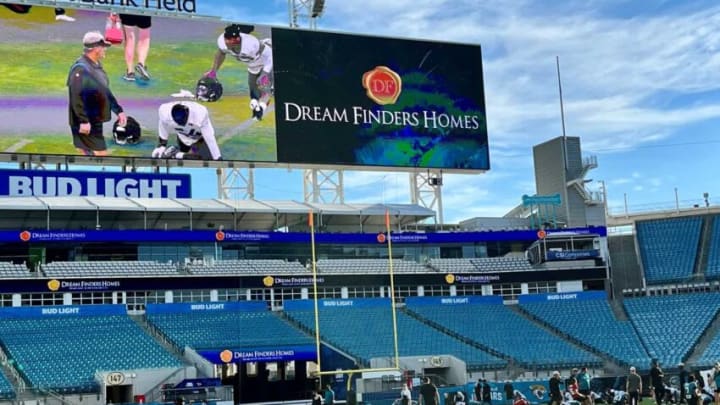 Jaguars coach Doug Pederson watches his players warm up at TIAA Bank Field. (Imagn Images photo pool) /
The Jacksonville Jaguars, just like every other NFL team, had to trim down their roster to 53 players by 4:00 p.m. ET, August 30. Now, they need to put together their practice squad, which has 16 spots available.
There are several in-house candidates to fill the practice squad but the Jags could also look into the waiver wire for external additions. After the deadline to reduce the roster, general manager Trent Baalke and head coach Doug Pederson met with the local media. When asked about the waiver wire, Baalke said that the team is open to making a claim.
"The process is ongoing. We've got scouts down there going through tape, all the preseason tape, working hard on that", Baalke said. "When we get done with this, we're going to go downstairs and at some point around six, seven o'clock tonight, the cutlass is going to come out, and we're going to scan throughout that work with coaches. They're all set for a long night as well. And we're going to do our due diligence and if there's a player on the cut list that we feel can upgrade the roster, we'll make that decision."
The Jaguars have top waiver priority by virtue of having the worst record in the NFL last year and they can make as many claims as they wish without restrictions.
As you can see, the waiver order is the same as the one, and it will be the same until Week 3 of the 2022 NFL season. One thing that is different from the draft order is that clubs can't trade spots.
How does the practice squad work? What players will the Jaguars add?
The practice squad went from 10 slots to 16 in 2020, and players with no NFL experience are eligible but there are limitations when it comes to players with more than one accrued season.
NFL teams can add to their practice squad:
No limit on players with zero accrued seasons
Up to ten players who don't have more than two accrued seasons.
Up to six players without a restriction on earned seasons.
What's an accrued/ earned season?
Per the NFLPA (the NFL players' union), you're credited with a season if "you're on the active, inactive, IR (Injured Reserve), or PUP (Physically unable to Perform List) for three or more regular or post-season NFL games.
Update No. 4, September 2: The Jags posted on their PR account on Twitter that they've signed kicker James McCourt, safety Josh Thompson and wide receiver Seth Williams to the practice squad. Not long after, they announced it on their official website.
Update No. 3, September 1: The Jaguars have added kicker James McCourt to their practice squad, per Aaron Wilson of Pro Football Network. Similarly, Wilson reports that the Jags were awarded LB Caleb Johnson off waivers.
Update No. 2: The Jags announced on their official website that they've added the following 11 players to their practice squad:
Israel Antwine, DT
Kevin Austin Jr., WR
Coy Cronk, OL
Nick Ford, OL
Gregory Junior, CB
Grant Morgan, LB
Ayo Oyelola, S (International Player Pathway Program practice squad exemption)
E.J. Perry, QB
Gerrit Prince, TE
Mekhi Sargent, RB
Darryl Williams, OL
Update No. 1, August 31: The Jags announced on their official website that they've parted ways with the following players:
Jamir Jones, OLB (waived)
James McCourt, K (waived)
Will Richardson Jr., OL (released)
Josh Thomson, S (waived)
Jake Verity (waived/injured)
That opens five spots on their roster. Similarly, Mark Long of the Associated Press reports that Jacksonville has claimed the following players off waivers:
Tyree Gillespie, DB
Jamycal Hasty, RB
Riley Patterson, PK
Kendric Pryor, WR
Ty Summers, LB