Jaguars training camp: 4 key takeaways from Pederson's Day 12 presser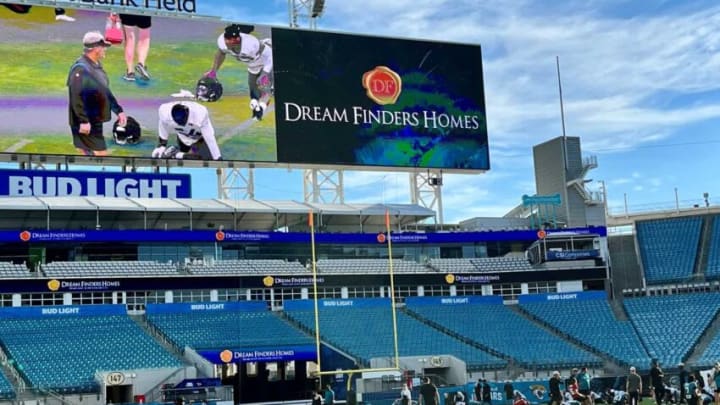 Jaguars coach Doug Pederson watches his players warm up at TIAA Bank Field. (Imagn Images photo pool) /
Jacksonville Jaguars quarterback Jake Luton (6) at Tom Benson Hall of Fame Stadium. Mandatory Credit: Ken Blaze-USA TODAY Sports /
2. Jaguars HC Doug Pederson knows what is like to be cut
The Jaguars announced Monday that they had released five players ahead of the first round of roster cuts before the start of the 2022 NFL season. Among those who got the boot were third-year quarterback Jake Luton and kicker Elliot Fry.
Regarding the team's decision to waive Luton, Pederson said the coaching staff wanted to see rookie E.J. Perry, whom they re-signed not long ago after releasing him in July. The head coach also said that Fry had a hamstring injury when discussing his release.
In the last two games, Luton went 22-of-38 for 186 yards with one interception. On the other hand, Fry nailed a 23-year field goal and made his two-extra point attempts against the Browns.
During his exchange with the media, Pederson said he appreciated what Luton and the other players the team cut did during their stint with the Jags, "They gave everything they had, we appreciate that". The head coach added that he knows what it feels like but pointed out that it's the nature of the business.
"I've been in their shoes too many times to understand exactly and know exactly what they're going through. It's just part of the business and by rules, we have to reduce our roster by five guys and we got to do five next and then get it down to 53 after that, so it's part of the business."
Before joining the coaching ranks in the NFL, Pederson played quarterback for several teams, including the Green Bay Packers, the Philadelphia Eagles, and the Cleveland Browns. During his ten-year career, he was released a myriad times, so he can definitely relate to his players. He's also aware that being waived isn't the end of the road, "it also gives them an opportunity to seek employment somewhere else".