Jaguars are FO analyst's emotional pick to win the AFC South in 2022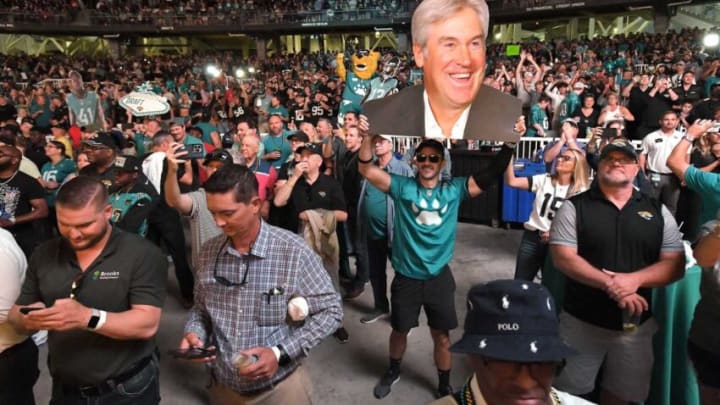 A Jaguars fan holds a oversized photo of the team's new head coach, Doug Pederson during the announcement of the team's first round draft pick Thursday evening. Jacksonville Jaguar fans showed up at Daily's Place for the 2022 NFL Draft party which saw the Jaguars pick University of Georgia edge rusher Travon Walker as their first pick of the draft where the team had the first overall draft pick Thursday evening, April 28, 2022. [Bob Self/Florida Times-Union]Jki 042822 Jags2022draftpa 2 /
The Jacksonville Jaguars have a steep hill to climb in 2022 if they want to win the AFC South. Many things would have to go right for them to claim the division title but Aaron Schatz of Football Outsiders thinks it might be possible.
Schatz, along with Mike Tanier and JP Acosta, recently took a look at Jacksonville and their chances of winning the AFC South, and confided that the Jags "emotionally are kind of my favorite team to win the division". Here's what Schwartz had to say:
"It's an emotional reaction, but it is basically if Urban Meyer is as bad as we all feel he was and Doug Pederson is good, which I think we all agree he's an above-average coach. And Lawrence is as talented as we all thought he was coming out of college. Like this team should be a lot better than it was last year. Last year really was a nightmare."
Meanwhile, Tanier believes that the Jaguars will be taking "a leap from comedy to mediocrity" but acknowledges that "mediocrity" can be enough to potentially win the AFC South due to how bad it is. Here's the whole clip in case you want to take a look at it.
The Jaguars are getting support ahead of the 2022 season
Schwartz isn't the only analyst who thinks the Jaguars could be good in 2022 and make up ground in the division. Bucky Brooks of NFL Media believes Jacksonville can be a "chaos" team in the AFC South this upcoming season, and both of them bring up valid points.
Again, a series of things — some of them internal, some of them external — would have to go the Jags' way in 2022 to win their first divison title since 2017. First, Lawrence would have to make a significant leap in Year 2 and most of the moves general manager Trent Baalke made in the offseason would have to pan out. Also, both the Tennesee Titans and the Indianapolis Colts would need to take a step back.
Similarly, Jacksonville can't take the Houston Texans lightly even though their AFC South foes don't currently look in great shape. The Jaguars arguably had a better roster last year and still got swept. They need to turn the tables on the Texans and beat them at least once in 2022.
One thing is sure, the Jaguars are poised to be better than they were last year. How much better? That's hard to tell but it's a good thing that analysts are taking note ahead of the 2022 season.