Jaguars HC Doug Pederson earns shockingly low spot in PFF ranking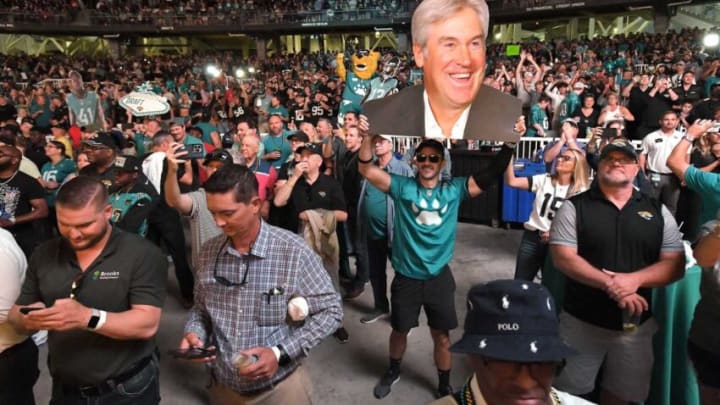 A Jaguars fan holds a oversized photo of the team's new head coach, Doug Pederson during the announcement of the team's first round draft pick Thursday evening. Jacksonville Jaguar fans showed up at Daily's Place for the 2022 NFL Draft party which saw the Jaguars pick University of Georgia edge rusher Travon Walker as their first pick of the draft where the team had the first overall draft pick Thursday evening, April 28, 2022. [Bob Self/Florida Times-Union]Jki 042822 Jags2022draftpa 2 /
Doug Pederson has plenty of experience working with NFL quarterbacks and knows how to win, leading the Philadelphia Eagles to their first Super Bowl win in franchise history. Those are just two of the many reasons the Jacksonville Jaguars hired him as their head coach but it apparently wasn't enough to get him a high spot in a recent ranking.
Connor McQuiston of Pro Football Focus recently ranked all 32 NFL head coaches and placed Pederson at No. 15, one spot below his successor in Philadelphia, Nick Sirianni, and one above Sean McDermott (Buffalo Bills). McQuistion used different tiers for his list and the three of them landed on the average tier. Regarding Pederson's spot in the ranking, McQuiston says he wasn't impressed with the head coach's final years with the Eagles.
"Pederson's final years in Philadelphia in some ways were a result of Caron Wentz's fall from grace but his subpar offensive rank here suggests he carries blame, as well. His ability to oversee good defenses, however, is a welcome sight in Jacksonville."
For context, Pederson took the Eagles to the playoffs three consecutive times and only failed to qualify for the postseason in his first and last years at the helm. In just his second season on the job, he won the Super Bowl and had Carson Wentz playing at an MVP level before suffering an ACL injury. Mike Vrabel (Tennesee Titans), Frank Reich (Indianapolis Colts), and Brandon Stanley (Los Angeles Chargers) have never won an NFL Championship. Yet, they all ranked higher than Pederson.
Jaguars HC Doug Pederson deserves a higher ranking
Pederson wasn't the only head coach that earned a shockingly low spot in the ranking. Mike Tomlin popped up at No. 13 despite the fact that he's never had a losing season and has the Pittsburgh Steelers routinely playing at a high level. Similarly, Sean McVay just led the Los Angeles Rams to their first Super Bowl win since 1999 and got the 11th spot on the list.
Of course, winning an NFL Championship isn't the only way to measure a coach's success but it should be a big factor, and so do playoff wins. Kliff Kingsbury landed at No. 4 but has finished above .500 just once during his three-year stint with the Arizona Cardinals and is 0-1 in the postseason. That simply doesn't make any sense. Nobody is saying Pederson is the best head coach NFL, not even top 5 but he certainly has a strong case as one of the best 10.
Regardless of Pederson's spot in the ranking, the Jaguars landed the right head coach to oversee the rebuild Urban Meyer started last year. So far, he's done a good job of rebuilding the trust his predecessor tore. He's put his players in a position to succeed in his previous stops and it shouldn't be any different in Jacksonville.
Pederson's got his work cut out and has acknowledged that it won't be an overnight fix. However, he's currently building the foundation for future success in Jacksonville. When you take into account his resume and current work with the Jaguars, his spot in the head coach ranking looks puzzling.