Jaguars land near the bottom of PFF's most recent power ranking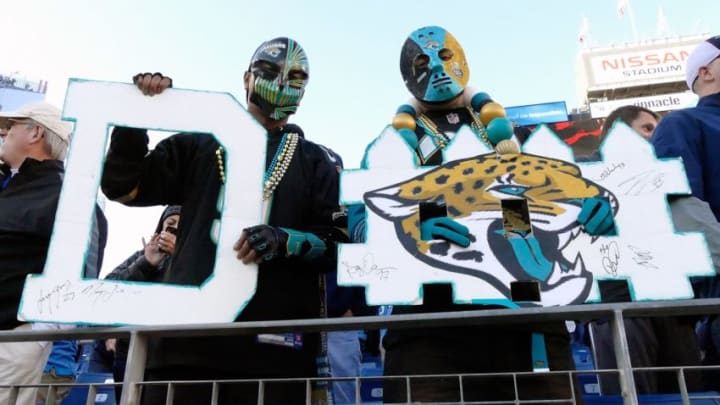 Fans of the Jacksonville Jaguars hold up a defense sign at Nissan Stadium on December 6, 2015 in Nashville, Tennessee. (Photo by Frederick Breedon/Getty Images) /
The Jacksonville Jaguars made several upgrades to their roster over the last few months but they aren't the only NFL team that got better this offseason. And while they have a long way to go before they can compete with powerhouses such as the Los Angeles Rams or the Buffalo Bills, the moves they made didn't go unnoticed in a recent power ranking.
Sam Monson of Pro Football Focus recently ranked every NFL club and the Jaguars earned the 27th spot, which is a step in the right direction when you take into account that they were the worst team in the league the last two years. Monson acknowledges that Jacksonville spent plenty of money in free agency but wonders if that was simply to lure players. On the other hand, he believes the Jags might be counting too much on Trevor Lawrence to improve in 2022.
"Jacksonville were big spenders this offseason, but it's tough to discern a strategy to that spending beyond simply paying big money to players the team could convince to come to Jacksonville. Brandon Scherff and Christian Kirk were big investments on the offensive line and receiving corps, but even with them, neither unit should be above league average. The draft was all about rolling the dice on talent, and so there's a real chance that the Jaguars are relying simply on the upgrade from Urban Meyer to Doug Pederson to boost Trevor Lawrence's play in Year 2."
Monson separated the teams into different tiers and the Jaguars were the best of the 'rebuilding' one. They were above the Houston Texans, the Atlanta Falcons, the Chicago Bears, and the Seattle Seahawks. For comparison, Jacksonville landed at No. 29 in Draft Wire's power ranking, so it's fair to see that although the consensus doesn't see them as the worst club in the league, they still have plenty of work to do.
The Jaguars have their work cut out but they've made strides
All things considered, the Jaguar's spot in Monson's ranking was fair. They were more aggressive than all the teams that finished below them and that was probably taken into consideration. Having said that, clubs such as the New York Jets and the Detroit Lions also had productive offseasons, so it wasn't particularly shocking to see them appear at No. 25 and No. 24, respectively.
Again, the Jags improved this offseason but they still lag behind other teams, which makes a 7-10 record in 2022 a realistic possibility. And while they aren't solely depending on Trevor Lawrence, they need him to make a leap in Year 2 and he could ultimately have a big impact on the team's win-loss record.
Precisely because the Jaguars know how important Lawrence is to their future success, they adopted an aggressive approach in free agency. It's true that they paid a premium for players such as wide receiver Christian Kirk and right guard Brandon Scherff but they couldn't afford to take half measures. In fact, if they had taken a more passive approach, they might have been criticized for not doing enough to put Lawrence in a position to succeed.
Power rankings are fluid and often changing but the Jaguars nor any other teams will move up or down until games are played. For the time being, they got a fair spot: Not at the bottom but still not where they want to be.