Jaguars have long way to go before they can compete in the AFC South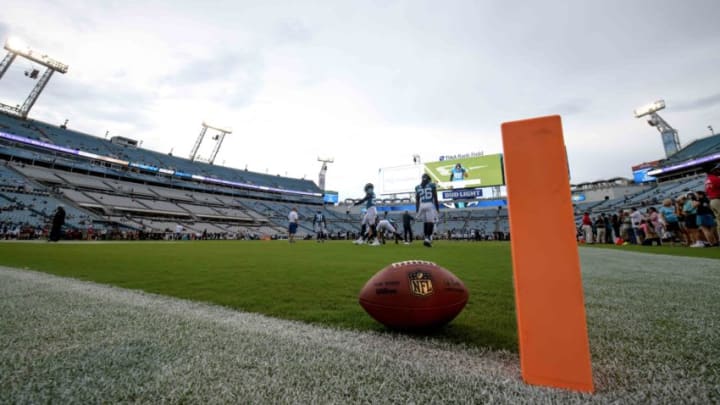 General view of TIAA Bank Field, home of the Jacksonville Jaguars. (Douglas DeFelice-USA TODAY Sports) /
An old NFL adage says, "you are what your record says you are", and this couldn't be more true for the Jacksonville Jaguars, a team that has won a combined three games in the last two seasons. One big reason the Jags haven't been able to win many games is their lack of talent. Bad front office decisions have left the roster devoid of difference-makers and with a few exceptions, you will be hard-pressed to find players that should be part of the team's long-term future. Based on how things have played out, and how the AFC South may look in 2022, it may be not be easy for the Jaguars to get out of the NFL cellar.
Bill Barnwell of ESPN doesn't seem Jacksonville improving much next season and believes a leap from worst to best is unlike based on how stacked the AFC South might be. The Tennesee Titans haven't regressed in 2021 and hold an 11-5 record even though they lost running back Derrick Henry for the season and had dealt with a vast amount of injuries to key players throughout the season. On the other hand, Barnwell sees the Indianapolis Colts as a good team and points out they rank eighth in Defense-adjusted Value Over Average (DVOA) in the league.
Then, there's the Houston Texans. They will finally have a full set of draft picks in 2022 and could even get extra assets if they can manage to trade quarterback Deshaun Watson this upcoming offseason. Meanwhile, the Jags are coming off a humiliating loss to the New England Patriots and haven't been able to win a game since Week 9 and set to earn the top overall pick in the NFL Draft for the second consecutive year. Simply, things aren't looking good for Jacksonville.
What would the Jaguars need to do to win the AFC South in 2022?
Winning a division title, something the Jaguars have accomplished just once in the last 20 years, would be an extremely tough task in 2022 and many things would need to happen for them to have a shot to go from worst to first in the AFC South. First, the Jaguars would need to get their head coaching hire right. Urban Meyer was supposed to right the ship but left the team in worst condition than it was before he took over. The organization can't afford to drop the ball in consecutive years.
The Jags would also need to get rid of general manager Trent Baalke. While he's had a few hits during his tenure with the team, his misses have been more and his presence could deter top head-coaching candidates from interviewing and taking the job. After landing a new head coach and a general manager, the Jags would need to sign a couple of impact players in free agency and nail most of their draft picks in 2022. Also, defensive end Josh Allen and Myles Jack need to play at a Pro Bowl level and cornerback Tyson Campbell has to keep developing in Year 2.
However, the most important factor to go from first to worst — as unlikely as it may be — would be Trevor Lawrence improving substantially in 2022. The Jags long-term success will depend on him playing up to his draft billing. He needs to cut down on the number of mistakes and take the next step in his development. Of course, the Jaguars need to do their part and need to surround him with a better supporting cast.
If the Jaguars want to keep up with their AFC South rivals, they will need to make significant changes. The sooner they do it, the faster they will be able to compete with them.