Jaguars bolster pass rush early in this 3-round 2022 NFL mock draft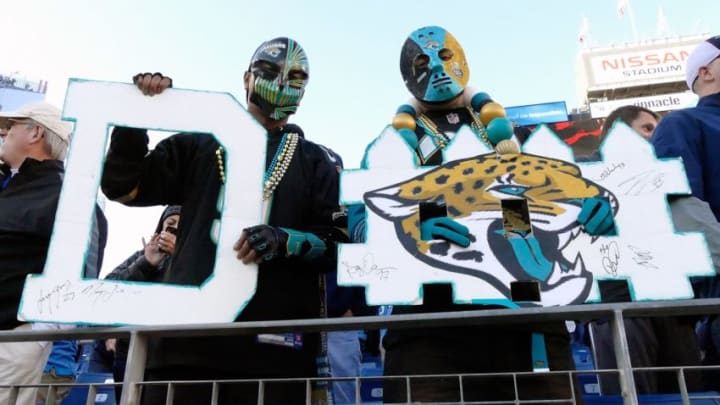 Fans of the Jacksonville Jaguars hold up a defense sign at Nissan Stadium on December 6, 2015 in Nashville, Tennessee. (Photo by Frederick Breedon/Getty Images) /
Jacksonville Jaguars quarterback Trevor Lawrence (Photo by Logan Bowles/NFL via Getty Images) /
The Jacksonville Jaguars revamped their roster this past offseason. Yet, they're 2-9 ahead of Week 13 of the 2021 season, and there are several reasons for that. First, one offseason wasn't enough to add talent. Second, they haven't gotten much production from their rookie class outside Trevor Lawrence and Tyson Campbell. Last but not least, Urban Meyer is experiencing growing pains in his first year as a head coach in the pros.
On the bright side, the Jaguars have the potential to improve in 2022. They will tentatively have the third-most cap space in the league next year, according to Spotract. Also, their lack of wins will ensure they end up with a high pick in the draft next year. Finally, Meyer should have a better grasp of the job with one year of experience under the belt.
With a potential franchise quarterback in the roster, the Jaguars now need to turn their attention to surrounding him with more talents. Currently, the Jags lack someone that can stretch the field at wide receiver. They also need to upgrade their offensive line, another cornerback, and maybe a linebacker. They can address some of those needs in free agency and the rest in the draft.
With the Detroit Lions looking like a sure bet to end with the top pick in 2022, the Jaguars and the Houston Texans could get into a tug war for the second overall pick. Both squads hold an identical record but there are five weeks left in the 2021 season and the draft order could change. Heck, it wouldn't be shocking to see the New York Jets (3-8) end with a worse record and seize the second or third overall pick. They currently hold the fourth. For the time being, here's a third-round mock draft.