Could Jaguars' Urban Meyer be lured by Notre Dame HC vacancy?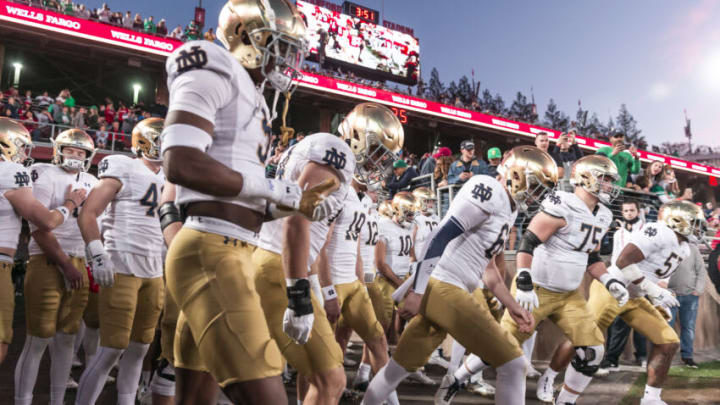 The Notre Dame Fighting Irish football team takes the field before an NCAA football game against the Stanford Cardinal on November 27. (Photo by David Madison/Getty Images) /
Even since Urban Meyer became the head coach of the Jacksonville Jaguars, there's been speculation about whether he would be one-and-done in the NFL. So far, he's stayed put but one high-profile job he may be interested in just became available.
Notre Dame has a head coaching vacancy after Brian Kelly has agreed to become LSU's new head coach, per Bruce Feldman of The Athletic. This is noteworthy because Shelley Meyer once said that it was her husband's dream job. This kind of opening is few and far between. Furthermore, Meyer would have significantly more control and security than he currently has with the Jags.
Nick Saban has spent more than 10 years at Alabama. Kelly himself had been at the helm of the Fighting Irish since 2010. Thus, it wouldn't be shocking if Meyer were interested in returning to the college level, where he found success leading Ohio State and Florida University. Meyer could stay as long as he wanted to as long as he win.
There's been a musical-chairs kind of thing going on in recent days. It all started with Bill Napier leaving LSU and taking over Florida. Then, Lincoln Riley bolted Oklahoma for USC and now, Kelly has become the head coach of the Tigers. The biggest vacancy left is that of the Notre Dame Fighting Irish.
Urban Meyer is committed to rebuilding the Jacksonville Jaguars.
Meyer's stint as a head coach in the NFL hasn't probably gone the way he expected when he got hired by the Jaguars. He's often looked overwhelmed and has shown he's still got a long way to go before he has a full grasp of the job. By his own admission, it's taken the Jags too long to find an offensive identity, which is something he should have figured by now. Also, he has a history of leaving high-profile jobs. First Florida and later Ohio State. That's one of the reasons the consensus is he will eventually do the same with the Jaguars.
Keep in mind that Meyer has been linked to pretty much every opening. When the Trojans gave Clay Helton the pink slip, chatter about Meyer potentially succeeding him arose. The same happened with Florida and now with Notre Dame. The only difference is that he may be indeed interested in becoming the Fighting Irish's next head coach.
Now, the interest would need to be mutual, and it's uncertain if that's currently the case. It's become a trendy thing to link Meyer to whatever college job happens to be open but it's not a given that he will leave the Jags. He's stated several times in the past his focus remains on turning the Jaguars into a perennial contender, and unless reports (not rumors) surface about him taking a college job, we should take his word for it. Also, if he leaves Jacksonville, he may never have a chance to coach once again in the NFL. Ever.
Earlier this year, the Jaguars had a vast pool of potential head-coach candidates to choose from. Ultimately, they settled on Meyer because the organization believes his success at the collegiate level would carry over to the NFL. Similarly, they might not have hired him if he hadn't reassured them he is in for the long haul. Passing on the Notre Dame opening would show that's the case.