Jaguars roster: Trading for WR Julio Jones comes with hefty price tag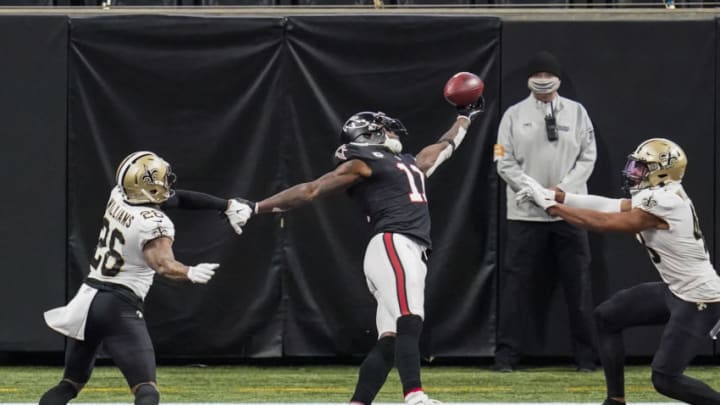 Atlanta Falcons wide receiver Julio Jones #11 (Dale Zanine-USA TODAY Sports) /
The Jacksonville Jaguars have put together a well-rounded wide receiver corps. DJ Chark has previously made the Pro Bowl and Laviska Shenault showed as a rookie. Furthermore, the organization signed Marvin Jones Jr. this offseason and drafted Jalen Camp in this year's selection meeting. This is arguable the Jags' most talented positional group heading into the 2021 NFL regular season. However, it could become almost unstoppable if they traded for Atlanta Falcons wide receiver Julio Jones.
Jones recently expressed his desire to leave Atlanta, and it seems like it a matter of time before a deal is consummated. ESPN previously reported that the Falcons are looking for a first-round selection but Peter King of NBC Sports believes they can settle for a second-round pick. King also adds the Tennesse Titans might be the front-runners to acquire the All-Pro receiver. Nevertheless, there's nothing set in stone and a surprise team could always arise.
Bill Barnwell of ESPN suggested not long ago the Jaguars send Shenault and a second-round selection to the Falcons. He believes Jacksonville would have a number-one receiver to play alongside Chark and Jones. This trade doesn't seem as farfetched when you consider that Viska's role with the team is uncertain. Also, Jones would instantly turn the Jags' offense into a top 5 unit. On the other hand, acquiring the 2011 first-round pick comes with an expensive caveat.
Whoever trades for Jones will most likely have to give him a new deal, per Mike Florio of Pro Football Talk. When you take into account that Jones will make $15.3 million in 2021, $11.513 million the following year, and $11.513 million in 2023, he is severely underpaid. Would the Jaguars be willing to scrape his current deal and give him one that pays him somewhere around $60 million over the same period of time?
Should the Jacksonville Jaguars allocate so many resources to Julio Jones?
Shenault and a second-round selection seem like a fair price for Jones. Also, the Jags would have no trouble giving Jones a raise, but when you put everything together, the cost of trading for the seven-time Pro Bowl nod is excessive. This Jacksonville team still has a vast amount of cap space but that doesn't mean they should go into a shopping spree. Also, parting ways with Shenault doesn't make sense when you think about it.
The 2020 second-round pick had a solid rookie season even though the Jaguars' quarterback situation was far from favorable last season. The new regime inherited Shenault, so they don't have an attachment to him. Nevertheless, giving up on the Colorado product after just one season would be head-scratching. He already showed flashes of what he can do? Why wouldn't the coaching staff want more of that in 2021?
If Jones didn't want a new contract and his price tag was just a second-round selection, the Jaguars should pick up the phone. Otherwise, they should stay put and develop their own players. As great as Jones is, Jacksonville just began a rebuild. Although it would be great to see the Jags make the playoffs for the first time since 2017, that isn't the organization's top goal this upcoming season. Rather, set the foundation for sustained success, something the Jags haven't had in a while.