Jaguars legend Jimmy Smith sounds chill about not being in Hall of Fame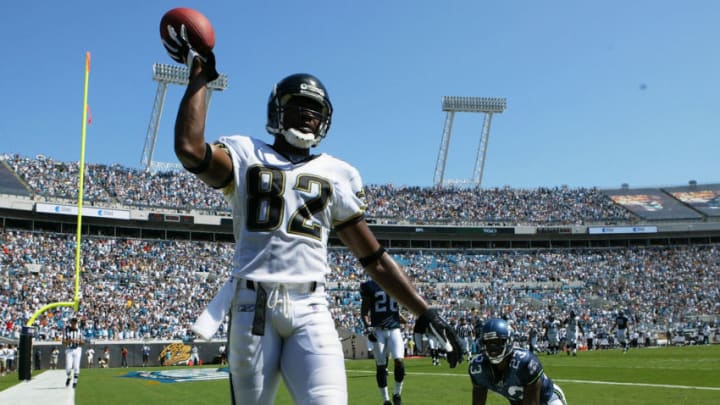 Jacksonville Jaguars WR Jimmy Smith #82 (Photo by Doug Benc/Getty Images) /
The Jacksonville Jaguars haven't had many superstars in recent years, but it was a different story in the early years of the franchise, as they had difference-makers such as offensive Tony Boselli, running back Fred Taylor, and wide receiver Jimmy Smith. Although all of them deserve Hall of Fame consideration, Smith sounds chill about not having a gold Jacket.
Smith recently appeared on The Matt Lombardo Show and said early in his appearance that the national media continues to "take jabs" at the Jaguars. The wide receiver adds that there seems to be a bias because if Taylor, Boselli, and he had played for any team other than the Jaguars, they would already have been inducted.
Later in the show, Smith told Matt Lombardo that it isn't frustrating not to get enshrined because he's being nominated every year, "I'm not going to be sitting over here, crying, 'they're not going to induct me'".
"It's nothing we are doing today. What do I have to do today? To get into the Hall of Fame for what I did on the field, the numbers that I put on the field, and on top of that, struggling with an addiction. It was extremely hard for me. I should be on the Hall of Fame just for overcoming that."
This Jacksonville Jaguars legend needs to get enshrined in the Hall of Fame.
Smith is right. If he had played for another team, he might have already been enshrined into the Hall of Fame. While he's just 24th in all-time receiving yards, he was in the top 10 when he retired. Although he had a slow start to his career, once he hit his stride, he didn't have any bad seasons and missed just five games from 1995 to 2005.
Smith hauled in 862 receptions and 12,287 yards over his 11-year tenure in Jacksonville. However you look at it,  those are Hall of Fame numbers and although he will eventually get inducted, that should've happened a while back.
The Jaguars haven't been very good in a while, but when they were early in franchise history, Smith was one of their best players and helped them reach two AFC Championships. The fact he played in Jacksonville certainly hurt his case but it shouldn't.
Looking at Smith's body of work, it's hard to poke holes in his candidacy. While he isn't bothered about not being in the Hall of Fame, we shouldn't even be having this conversation and he should already wearing his gold jacket.