Jaguars team up with Honeywell to make TIAA Bank Field a safer space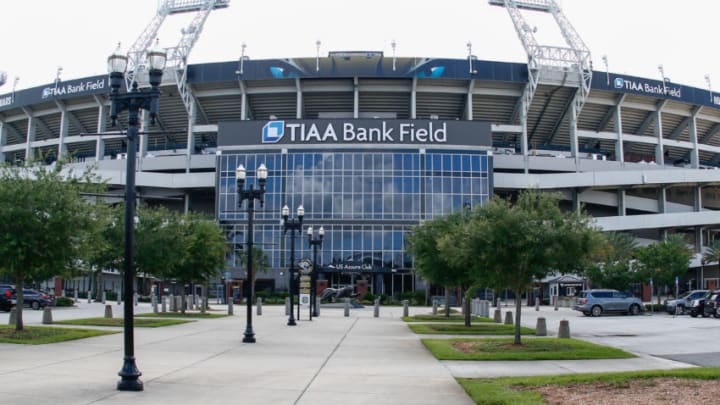 A view of the outside of the stadium at TIAA Bank Field. Mandatory Credit: Reinhold Matay-USA TODAY Sports /
Before the Jacksonville Jaguars hired Urban Meyer as the head coach this offseason, they discussed upgrades in the team's practice facilities. While some changes may be more noticeable than others, a recent one shouldn't go unnoticed.
Honeywell announced they began a partnership with the Jags to 'help protect players and staff throughout football and front office spaces at TIAA Bank Field'. Mainly, they will monitor air quality at the facilities and offer individual protective equipment for Jaguars players and staff.
Through a dashboard, the Jags' staff will be able to monitor and fix things that can affect air quality such as carbon monoxide, temperature, and humidity. Also, they will be able to control other indicators such as occupancy and cleaning tracking. Staff and players will also be given a Safety Pack, branded for the Jaguars, which will include two masks and cleaning wipes.
While office space isn't the same as athletic facilities, the Jags will likely implement some of the solutions Honeywell has applied to their Bangalore office. This Jacksonville team could adopt things such as facial recognition access control to reduce contact with surfaces and installing indoor quality air sensors.
The Jacksonville Jaguars are providing a safe environment.
When you think of upgrades at the practice facilities, installing a new weight rack or expanding the locker room may come to mind, but monitoring and controlling air quality is very important, especially when you take into account the COVID-19 pandemic isn't over.
Besides providing a sanitated space, having the right levels of temperature, and humidity can lead to players performing better. Jaguars vice president of technology Michael Webb talked about the importance of having safe indoor spaces.
"Monitoring air quality in enclosed spaces throughout the stadium like offices, meeting rooms and locker rooms is critical. Honeywell has helped us to quickly and efficiently deploy a custom solution suited for our needs."
Last year, the Carolina Panthers also partnered with Honeywell and they implemented similar changes. Just like the Jags, they made increased efficiency and building sanitation a priority. It wouldn't be surprising to see other NFL teams follow suit.
The Jaguars' new regime is committed to making changes in order to turn things around after finishing 1-15 last season and making upgrades to the facility is a meaningful step in the right direction.