Jaguars: Allen Robinson says 'It'd be dope playing with next NFL prodigy'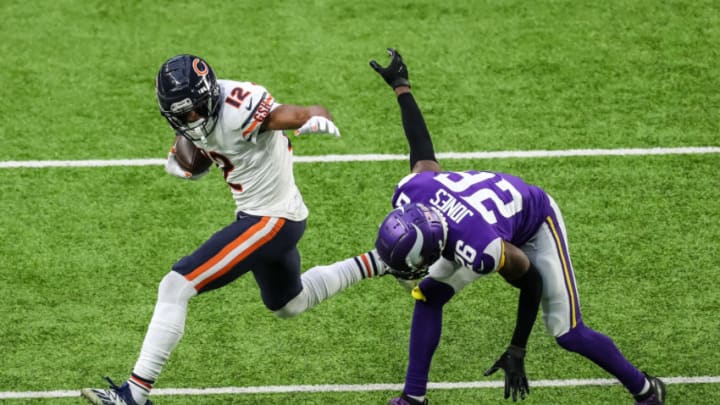 Chicago Bears wide receiver Allen Robinson (12) at U.S. Bank Stadium. Mandatory Credit: Brace Hemmelgarn-USA TODAY Sports /
The Jacksonville Jaguars have a couple of good wide receivers in Laviska Shenault Jr. and DJ Chark Jr. However, they could round out their wide receiver corps by signing Allen Robinson, who will arguably be one of the best free agents available this offseason and has positive things to say about Clemson quarterback Trevor Lawrence, the projected first overall pick in the 2021 NFL Draft.
Robinson recently appeared in The Chris Collinsworth's Podcast to talk about this future. When discussing what kind of team he would like to join, he says that he has never really focused on who's throwing the ball, and instead, he strives to be the best player he can be and wants to make an impact on the team he's playing for.
Later, Robinson adds that when choosing his next team, there will be many factors involved, such as the culture, and the players because that's what ultimately sets up the standard for winning. He also cites great coaches and a scheme where he can move around and able to have 'those impactful plays on first down and get the mix on third down'.
Later in the sit-down, Robinson was asked about the odds of re-joining the Jaguars and his thoughts on Lawrence. The Penn State product says he's not opposed to anything, that everything is on the table, and that it'd be great playing with the next NFL Prodigy of the quarterback position. He believes the Clemson standout will be an outstanding player in the NFL and mentions that he's seeing players transcend the quarterback position based on their athleticism and the ability to make off-schedule throws.
Robinson would give the Jacksonville Jaguars' offense a significant boost.
The Jaguars pursuing Robinson would be contingent on the Chicago Bears not applying the franchise tag on him. If they do, the 2015 Pro Bowl nod would be off the market and Jacksonville would have to pursue other players in free agency.
The Jaguars can easily afford to pay Robinson's salary demands and they are arguably a better organization than they were when he left in 2018. Doug Marrone is no longer the head coach and Urban Meyer will oversee the team's rebuilding effort. The fact they will most likely draft the best quarterback prospect in years should also entice the wide receiver to come back to the team that made him the 61st overall pick in 2014's selection meeting.
Meyer's presence should most definitely help the Jaguars turn things around after finishing 1-15 last season. However, there's only so much good coaching can do and if they really want to become a successful team, they will have to add impact players this offseason, and Robinson should be one of the best ones available.