Jacksonville Jaguars: 4 Ways to win the 2020 NFL Draft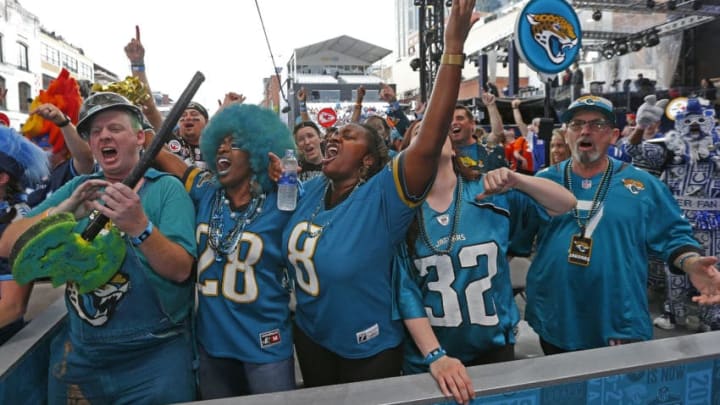 Fans of the Jacksonville Jaguars on Day 1 of 2019's draft (Photo by Frederick Breedon/Getty Images) /
Can the Jacksonville Jaguars replicate the success they had in both the 2016 and 2019 NFL Draft classes this upcoming April?
The Jacksonville Jaguars have been on the clock ever since a five-game losing streaked sent this team into a tailspin in the middle of the season, dropping them to a 4-9 record.
There was a thought heading into the London game against the Houston Texans that these Jaguars, led by a rookie quarterback and a defense that would bend at times but not break, could weather the storm of losing both Marcell Dareus (to a core muscle injury) and then Jalen Ramsey (to a tantrum and a blockbuster trade).
Jacksonville lost 26-3 and sent the team back to states looking to regroup.
Another double-digit losing record once again places Jacksonville in the top ten at the ninth slot. An extra first-round pick – compliments of the Los Angeles Rams – means two major holes could be filled with top talent. There is plenty riding on this draft class, much like last season.
The success of the players selected could be part of the continuation of the Doug Marrone era or could also spell the end of the team's front office and coaching staff.
The Jaguars have needs all over the field, so singling out one specific area to focus on would be a disservice to the scouting team and the work director of player personnel Trent Baalke and general manager David Caldwell have done this offseason.
The chess pieces both man play, along with input from Marrone will usher in a new balance after the end of the Tom Coughlin era.
The last thing team owner Shad Khan wants is a repeat of the past two seasons that gained just 11 wins, total. To do that Jacksonville must find impact players who move the needle and serve as long-range solutions to issues that have plagued this team even during the 2017 run toward the playoffs.
Here are four ways the Jaguars can win the 2020 NFL Draft.