The Jaguars could come up huge in the NFL Draft in April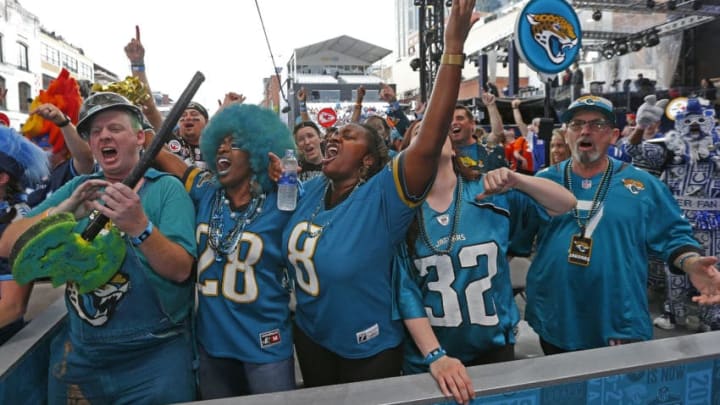 Fans of the Jacksonville Jaguars on Day 1 of 2019's draft (Photo by Frederick Breedon/Getty Images) /
The Jacksonville Jaguars must make all the right moves to get themselves out of the top half of the NFL Draft in 2021.
In Josh Edwards' latest NFL Mock Draft, he has three quarterbacks taken in the first six picks. None of them are chosen by the Jacksonville Jaguars. Conventional wisdom would have the members of the Jaguars front office smiling like a Cheshire cat should something like that happen on Draft night.
It could become a reality.
The Jaguars want to see as many quarterbacks taken ahead of them as possible while players who they have on their big board begin to slide. If Cincinnati and Miami grab Joe Burrow and Tua Tagovailoa, respectively, then the Los Angeles Chargers and Carolina Panthers have a chance to select their next franchise arm. I personally, am a big fan of Justin Herbert.
More from Jaguars Draft
David Caldwell will become the biggest cheerleaders for the Chargers and Panthers, hoping to catch their first future superstar. And with two picks in the first 20 and three in the first 42, this could be a quick fix for the defense that let everyone down this past season.
If you look at my mock of the first 10 picks, it's a bit unconventional, but the Jaguars benefit from other teams with greater offensive needs.
1. Cincinnati Bengals – Joe Burrow, Quarterback, LSU
2. Washington Redskins – Chase Young, Defensive End, Ohio State
3. Detroit Lions – Jeff Okudah, Safety, Ohio State
4. New York Giants – Andrew Thomas, Tackle, Georgia
5. Miami Dolphins – Tua Tagovailoa, Quarterback, Alabama
6. Los Angeles Chargers – Justin Herbert, Quarterback, Oregon
7. Carolina Panthers – Isaiah Simmons, Linebacker, Clemson
8. Arizona Cardinals – Jerry Jeudy, Wide Receiver, Alabama
9. Jacksonville Jaguars – Derrick Brown, Defensive Tackle, Auburn
10. Cleveland Browns – Jedrick Wills, Tackle, Alabama
When the draft order finalized on the evening of Dec. 29, I was sure there was no way for the Jaguars to help itself in areas of great need, but like many times before I was wrong. In fact, the front office may be scratching its head, deciding if the need on the offensive line or defensive interior is greater.
While Tom Coughlin will no longer be calling the shots in the war room, his presence may be greatly felt building a team on both lines and then concentrating on skill positions in later rounds.
John Oehser of Jaguars.com has been running the website's own mock first round where Simmons, who can play both safety and linebacker, has been a popular pick for the black and teal in the ninth slot.
""Isaiah Simmons, a hybrid safety/linebacker from Clemson University, was the selection of choice for the Jaguars by four of six analysts in the latest jaguars.com 2020 mock draft tracker," he adds. "All four analysts mocked Simmons to the Jaguars at No. 9 overall.""
He wasn't the only one who salivated at the notion of Simmons being on the roster come April.
""Pairing Simmons with last year's first-round pick, Josh Allen, will give the Jaguars two elite defensive athletes to build around. He can play linebacker or safety," wrote Daniel Jeremiah of NFL.com."
It will be interesting to see if the Jaguars stick to one side of the football and then move around the draft board or is this a situation where the best available player option becomes a fixture of this plan. The one thing we do know is if teams look to grab quarterbacks early, then the choices the Jaguars will have become that much better.