Jacksonville Jaguars: 3 Bold predictions vs. Texans, Week 9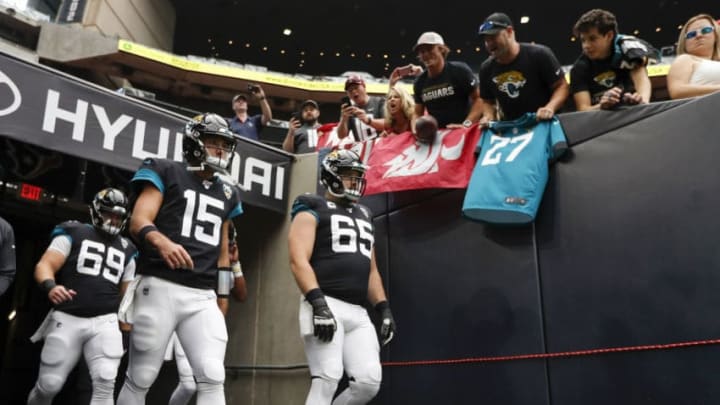 HOUSTON, TX - SEPTEMBER 15: Gardner Minshew #15 of the Jacksonville Jaguars and Brandon Linder #65 walk out of the tunnel before the game against the Houston Texans at NRG Stadium on September 15, 2019 in Houston, Texas. (Photo by Tim Warner/Getty Images) /
The Jacksonville Jaguars hope to run through the Houston Texans on Sunday in London. Here are three bold predictions.
If you ask Jacksonville Jaguars head coach Doug Marrone about playing a football game in London and the preparation it takes to get ready to move his football team across the pond, he will tell you it's a tough thing to do.
Luckily, this is the seventh year in a row the Jaguars have played one of their home games at Wembley Stadium as part of the International Series. And with a decided advantage, the hope is the Jaguars can beat their AFC South rival Houston Texans and walk into their bye week with a 5-4 record.
""It's awful, you get discombobulated," Marrone said. "You don't know what's up and what's down, if it's daylight, nighttime. It's brutal. I'm glad I've done it before.""
This is the first time the Texans will play in London, but it is the second time this season the two teams have met, with Houston winning 13-12 on a missed two-point conversion by the Jaguars with 30 seconds left in the game in Week 2.
More from Jacksonville Jaguars News
Now, with both teams looking to extend their hopes of a potential playoff berth, the Jaguars know a winning record with time off to prepare for their second half of the 2019 season is better than a losing one with questions to be answered about who will line up under center against Indianapolis in Week 11.
The Jaguars offense is getting better but still has some issues with the run blocking and pass protection. The defense is hitting its stride at the right time with sacks and turnovers. The football machine is gaining speed, as evidence of a two-game winning streak.
If the Jaguars are going to win on Sunday, grab more momentum for this season and win a critical division game this might be the biggest game of their season. Here are three bold predictions for Sunday's action.
The Jaguars convert a two-point conversion and win the game – Forgive my sarcasm a bit, but the Jaguars weren't imaginative in their play calling to win at Houston. Leonard Fournette got the ball and was stopped short of the goal line.
This time, it will be different. If Gardner Minshew has the ball and scrambles out of the pocket, magic happens. On a run-pass option, Minshew further strengthens his case to start Game 10 with a game-winning run into the endzone in the final minute to win at Wembley Stadium.
Keelan Cole gets two touchdowns – Keelan Cole has caught a touchdown pass in two straight games. Why wouldn't he do it again this week?
Cole should get more opportunities to be a bigger part of the passing game since Marqise Lee has been placed on I.R. and Dede Westbrook has been dealing with nagging injuries. While Chris Conley and DJ Chark are the primary targets in the offense this season, look for Cole to use his speed underneath to keep the Texans guessing which wide receiver will become the end zone threat.
Minshew and Cole connect on two scores.
Taven Bryan gets two sacks – The defensive line has been the focal point of late, harassing Andy Dalton two weeks ago and then doing the same thing to Sam Darnold. The task will be tough given Deshaun Watson is a mobile passer who is playing his best football, but if the Jaguars are able to penetrate up the middle, it will be a long day for the Texans quarterback.
Taven Bryan has been playing well the past few weeks and has shown he can apply pressure up the middle. In this game, he gets two sacks, which also makes blocking assignments difficult for the Houston offensive line.