Jacksonville Jaguars: Player of the Game for Week 2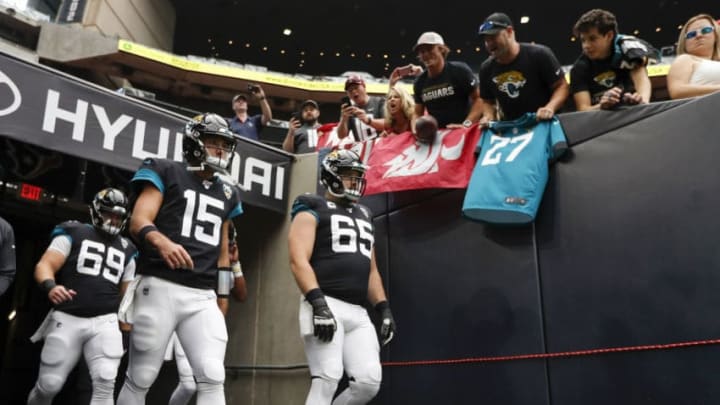 HOUSTON, TX - SEPTEMBER 15: Gardner Minshew #15 of the Jacksonville Jaguars and Brandon Linder #65 walk out of the tunnel before the game against the Houston Texans at NRG Stadium on September 15, 2019 in Houston, Texas. (Photo by Tim Warner/Getty Images) /
The Jaguars came up short in a one-point loss to the Texans, but Gardner Minshew is making a believer out of NFL fans.
Despite a disappointing road loss to division rival Houston, the Jacksonville Jaguars have someone to be excited about in rookie quarterback Gardner Minshew, who is this week's Black and Teal Player of the Game.
In his first career start, Minshew went 22-33, for 213 yards and a touchdown.
Minshew didn't electrify the field with absurd throws and highlight-reel plays, but he played with an intelligence that isn't seen often in rookie quarterbacks. Minshew looked poised and in control of the offense.
More from Jacksonville Jaguars News
When starting quarterback Nick Foles went down with a broken left clavicle, it seemed as if the Jaguars season was doomed and it would be a tough 10 weeks. But so far, Minshew has given Jaguars fans something to believe in.
There is a real possibility that we could be looking at the future starting quarterback of the Jacksonville Jaguars.
Minshew looked his best on Sunday during the final moments of the game, leading the offense on a 14-play, 68-yard touchdown drive that was capped off with a touchdown pass to wide receiver DJ Chark.
During that final drive, Minshew connected with Chris Conley for a 12-yard gain on third and nine, as well as scrambling for 18 yards on a fourth and 10. Minshew's touchdown pass to Chark involved the young quarterback to move around and buy time for the second-year wideout to free up.
Minshew also impressed on the ground with 56 rushing yards, a team-high. He looks comfortable in the pocket and having to scramble to make a play happen.
It would have been nice to see Minshew get the opportunity to win the game for the Jaguars on the two-point conversion, but regardless, "The Stache" looks to be the real deal.
What's most exciting about Minshew is the fact that when he's under center, it feels natural. Minshew is a quarterback comfortable in his own skin (see pregame jockstrap stretching), who won't get too high or too low. He is in control of himself, and most importantly the team.
He's a player that can rally a locker room, as well as reignite a fan base, and garner national media attention with his eccentric style but traditional quarterback personality. Yes, "Minshew Mania" is happening folks, and it's time to hop on the bandwagon.
Coming up, it's a short week for the team and the rookie will get another crack at a division rival in the Tennessee Titans. An offensive line that could get Cam Robinson back at left tackle will be a huge step for the team and the comfort of the team's newest leader.
There seems to be a real camaraderie growing between Minshew and Chark, another aspect that will develop on Thursday Night Football in Duval County.