Jacksonville Jaguars: John DiFilippo's offseason wish list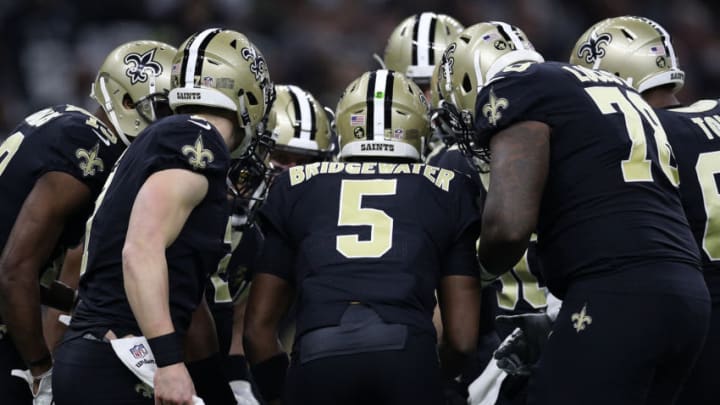 NEW ORLEANS, LOUISIANA - DECEMBER 30: Teddy Bridgewater #5 of the New Orleans Saints calls a play in the huddle during the first half against the Carolina Panthers at the Mercedes-Benz Superdome on December 30, 2018 in New Orleans, Louisiana. (Photo by Chris Graythen/Getty Images) /
With a new coordinator in place and a new season on the horizon, what will the Jacksonville Jaguars do to improve its offense in 2019?
Like we discussed before, no sooner had it been announced that the Jaguars were bringing in John DiFillippo to run the offense this season, rumors of a reunion with Eagles quarterback Nick Foles flooded websites and social media.
Could a union that worked well in Philadelphia do the same thing here in North Florida? Could the 30-year-old signal caller erase years of frustration at the NFL's most important position? Would bringing in the player and coach be enough to bring this franchise back to its winning ways of just a year ago?
Those are all questions that have no answer yet, but the potential is there for a big season for Jacksonville if the tea leaves fall into place. Most fans are excited about the new hire to run this offense, hoping to move as far away from the stagnation and impotence as possible.
For DiFillipo, who was ousted in Minnesota after 13 weeks on the job, it is a fresh start as well. Can he take a foundation that is fractured and cement it into a winner? Anything has to be better than 15.6 points a game from last season, which was 31st in the NFL.
Here are three wishes for Difilippo and the Jaguars offense this offseason.
The Veteran Quarterback – The immediate connection between DiFilippo and Foles was going to happen. Many NFL writes started plotting a course for this to happen. It makes too much sense, which leads me to think it won't happen.
ESPN.com listed its top 50 free agents (subscription only). Teddy Bridgewater was sixth on the list. Would he be the team's top choice should a deal for Foles not get done, or if the team does not want to pay such a high price for the Eagles backup turned starter?
More from Jacksonville Jaguars News
""Even after three seasons away from the field, Bridgewater still is young enough to be a longer-term starter," Kevin Seifert wrote. "His 2018 preseason with the Jets (73.7 completion percentage, 316 yards, two touchdowns) was encouraging. Can his right knee hold up over 16 games? It hasn't been tested in that way. But almost any quarterback available in free agency comes with at least some drawback.""
The Jaguars could have had Bridgewater in the offseason last year for Dante Fowler when he was a member of the Jets. Finally, this might be a deal that makes sense for the 26-year-old and the franchise.
Offensive Linemen in Free Agency – I am not closing the book on the possibility of Jacksonville drafting an offensive lineman in the first round and then hunt for a rookie signal caller in Round 2.
The Jaguars suffered mightily this season because the offensive line could not stay healthy – something that myself and fellow Black and Teal contributor Kathy Clark have talked about almost every day since the end of the season.
A change is needed. Jacksonville may decide to not re-sign a majority of its free agent offensive linemen and start anew. It would also mean the team needs to find two new starters at right guard, for A.J. Cann and right tackle for Jermey Parnell, who could be released in March.
The left side of left guard Andrew Norwell and left tackle Cam Robinson must play better in 2019. Both finished the season on IR. The left tackle spot was a swinging door where four players made a start at the position.
Since the Jaguars are over the salary cap as of writing this article, will the team clear enough cap space to make a move or two for inexpensive veterans? In all, five Jaguars could walk off the roster into free agency next month.
Pass Catchers and More – The Jaguars may get creative here. Donte Moncrief won't be back after the team paid him $9.6 million on a one-year deal. Tight end Austin Seferian-Jenkins may not be the answer at tight end after he played in only five games last season.
This is where free agency and the two picks in the third round of the Draft is helpful.
Tight end James O'Shaughnessy should come back next season. Ben Koyack is a restricted free agent. Tyler Eifert has been injured too many times, so he would not fit here after his career in Cincinnati. It's a position the team should definitely address.
As for wide receivers, at least one will be drafted, possibly as early as Round 2. Deebo Samuel of South Carolina would look good in a Jaguars uniform. Dontrelle Inman of Indianapolis and Justin Hardy of Atlanta are intriguing possibilities to me.
The only four wide receivers to return could be DJ Chark, Dede Westbrook, Marqise Lee and Keelan Cole who was a huge disappointment last season, but he comes at an affordable price for this franchise.