Will the Jacksonville Jaguars draft an offensive lineman in the first round of the 2018 NFL Draft?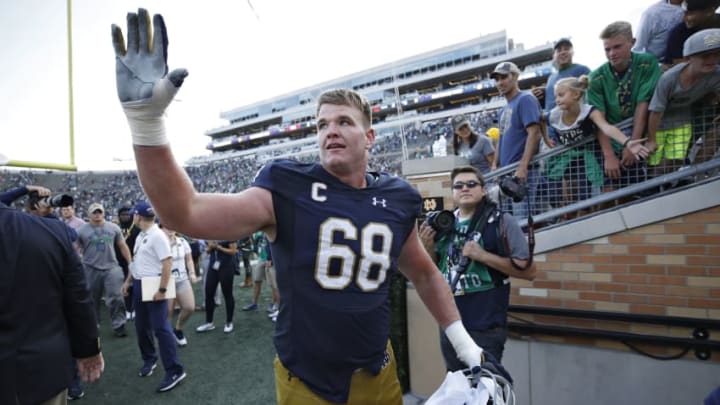 SOUTH BEND, IN - SEPTEMBER 02: Mike McGlinchey /
Many pundits say that the most likely first round choice for the Jacksonville Jaguars is an offensive lineman.
The Jacksonville Jaguars plan to continue the run first offense for at least another year. As a result, the team needs a solid starting offensive line unit and top notch backups. Let's take a look at the offensive line draft class (Most of the following statistics and all prospect grades are gleaned from NFL.com).
The best of the best
The top offensive lineman in the 2018 draft is guard Quenton Nelson.  Nelson's prospect grade on NFL.com is 7.34, which translates to a "pro bowl caliber player."  Therefore he is a top draft pick and will be picked up early in the first round. In addition, there are three players with NFL.com grades that put them in the "good chance to be a starter category."  These prospects are guard Isaiah Wynn with a 6.11, and guard Will Hernandez with a grade of 6.11.  In addition, tackle Orlando Brown's grade is 6.12.  The grades suggest that these players are in the plans of several teams. There is a chance they will be gone by pick 29.
The best of the rest
This group of players have a chance to play immediately but may need time as a backup to hone their skills. To start, tackle Mike McGlinchey earned a prospect grade of 5.89.  He is 6'8'' and 309 pounds. McGlinchey was a team captain for Notre Dame.
Next is guard Conner Williams.  He graded out at 5.86 and is 6'5'' and 320 pounds.  Williams played at the University of Texas and is versatile across the line.  Williams is an ideal addition to a team as a backup that can transition in the starting role.
More from Jacksonville Jaguars News
Then we look at guard Martinas Rankin.  His score is 5.76 and he is 6'5'' and weighs 305 pounds. Rankin can play across the entire line, but best projected as a center. He played at Mississippi State. The Jaguars are unlikely to draft a player best suited at center.
Also we have Brian O'Neill from the University of Pittsburgh.  His grade is 5.71 and he is 6'7'' and 297 pounds.  O'Neill is currently a tackle but may be moved to guard in the NFL.  O'Neill's  inconsistent performance in the Senior Bowl put a dent into his draft status.
Last is tackle Jamarco Jones from Ohio State.  Jones graded out at 5.86, and he is 6'4'' and 299 pounds.  Jones played great competition in college.
And the choice is…..
It is good news that choices are available to draft in the second and third rounds. More good news is that these prospects played at major colleges against first rate competition. The Jaguars can pick up a solid backup or possibly a starter.  A great choice at tackle is Mike McGlinchey.  He played great competition in college and has the size to play in the NFL.  In addition, Conner Williams is a good choice at guard.  Williams played several offensive line positions and could start his career as a backup and move into the starting lineup at a later date.