Culture Change: Jacksonville Jaguars may finally be putting in the required work to win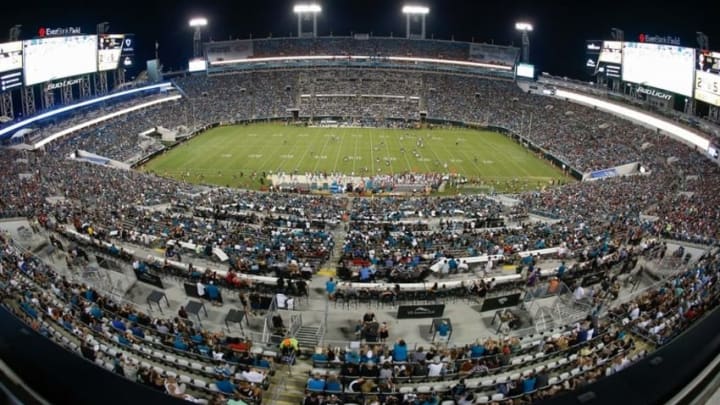 Aug 20, 2016; Jacksonville, FL, USA; A wide overhead view of the field during the second quarter of a football game between the Jacksonville Jaguars and the Tampa Bay Buccaneers at EverBank Field. Mandatory Credit: Reinhold Matay-USA TODAY Sports /
Jacksonville Jaguars culture has been poor in recent years, fermenting into a culture of losing. Hopefully some recent changes can turn it around.
Ryan O'Halloran over at the Florida Times-Union recently published a piece highlighting the changing Jacksonville Jaguars work requirements. Chief among them was requiring the team to work six days a week instead of five and not letting people wear shorts and hats inside the building.
This article was passed around on /r/jaguars and some fans there had plenty to say about whether or not it will actually make a difference. Some chief considerations include burnout and discipline. Coaches and players put in plenty of work during the season and during the offseason and it's tough to keep things going at high intensity for long periods of time. Similarly, discipline for discipline's sake just becomes another thing to conform to and may cause problems.
O'Halloran attributes these changes to new executive vice president for football operations Tom Coughlin. Coughlin is known for being a demanding professional and instilling discipline. He had success through his brand of management with the Jaguars during his first NFL head coaching gig and again as the head coach of the New York Giants. That is no guarantee that it will work again, but his two Super Bowl rings are a strong track record.
More from Black and Teal
But this change isn't just about continuing what he has done before. Similarly, it isn't just about discipline for discipline's sake. What Coughlin is doing is shaking the core culture of the Jacksonville Jaguars away from being that of a casual one that produced lackluster results. The changes he is making help signal that the team is no longer the same team that only won 14 games in four seasons.
Whether other teams have strict discipline or not is irrelevant. Whether other teams find success by allowing more individuality or not is irrelevant. What matters most is that the 2017 Jaguars are not going to resemble the 2013-2016 Jaguars. This is a new team with a new start and the team is going to act and look like it.
It's time the team puts in the work. Six day weeks and a shift in culture is what a team needs sometimes to get the job done. This is a positive change for the team.