Jacksonville Jaguars Week 12 Power Rankings: Bottom dwelling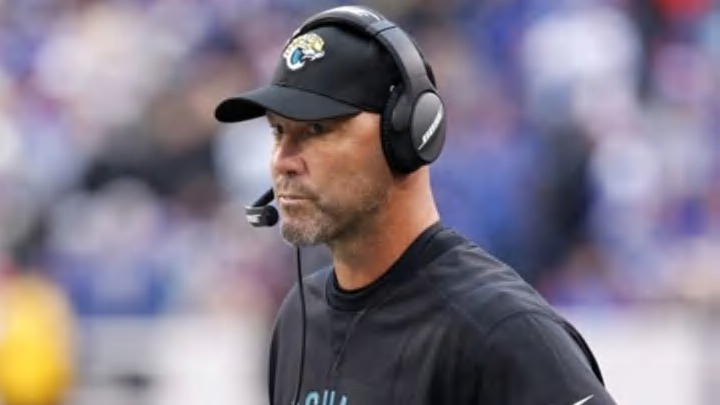 Nov 27, 2016; Orchard Park, NY, USA; Jacksonville Jaguars head coach Gus Bradley on the sideline during the second half against the Buffalo Bills at New Era Field. Bills beat the Jaguars 28-21. Mandatory Credit: Kevin Hoffman-USA TODAY Sports /
After a loss that secured the franchise yet another guaranteed season under 0.500, the Jacksonville Jaguars don't have much left to play for in a hopeless season.
Expectations weren't very high when the Jaguars traveled to Buffalo to play the Bills last weekend. While the Jaguars aren't getting blown out in spectacular fashion circa 2013 and 2014 under head coach Gus Bradley, they were still finding ways to lose close games.
More from Jacksonville Jaguars News
Things weren't any different last weekend, as the team squandered a dominant defensive effort in the first half against a potent Bills rushing attack, and horrific coaching decisions doomed an already unmotivated roster. With 5 more games, it's comical to think Bradley is going to get his players up and ready to play for him when everyone on the planet knows he will be fired by the end of the regular season.
Here's a brief collection of some rankings around the web as the Jaguars let the weight of a lost season sink them into oblivion yet again:
"31. Jacksonville Jaguars (last week: 31)Outspoken cornerback Jalen Ramsey had his worst game as a pro Sunday, but by no means was he the reason the Jaguars lost. Blake Bortles and the offense couldn't remain on the field and keep a lead, putting the ball in the defense's hands far too often. There's a serious lack of urgency in Jacksonville, and Gus Bradley's day of reckoning is nearing."
"30JaguarsThey battle at Buffalo, and this is a team that has young talent. It's clear that another coach will lead all of it next season."
"30. Jacksonville JaguarsAnother subpar day throwing the football for Blake Bortles, although in Buffalo, the third-year quarterback mitigated much of the air game's deficiencies with timely scampers out of the pocket. The Jags had no answer for the best player on the field, Bills back LeSean McCoy, as he tore the defense up for 134 scrimmage yards and two touchdowns. That said, Jacksonville gave the Bills a much tougher game than most envisioned. That said, this team has dropped six in a row and is now 14-45 in the Gus Bradley era."
"29. Jacksonville Jaguars2016 record: 2-9 | Week 12 ranking: 30Sunday's loss to Buffalo clinched a sixth consecutive losing season for the Jaguars, who have the fourth-worst point differential in the NFL this season. The Jags, who host Denver on Sunday, grabbed some notable former Broncos in recent offseasons (Julius Thomas, Malik Jackson, Zane Beadles)."
My take:
I don't really have much to say or disagree with here. Could the Jaguars beat the Browns, 49ers, or Bears? Probably, it just depends on how many dumb mistakes they make. I certainly wouldn't expect them to, and I wouldn't be shocked if they lost to any of those teams. That being said, the Jaguars aren't getting blown out in every game, so that's a thing I guess. I'd put the Jaguars at 30 or 31.