Jacksonville Jaguars lose to Kansas City Chiefs backup squad: Quick Notes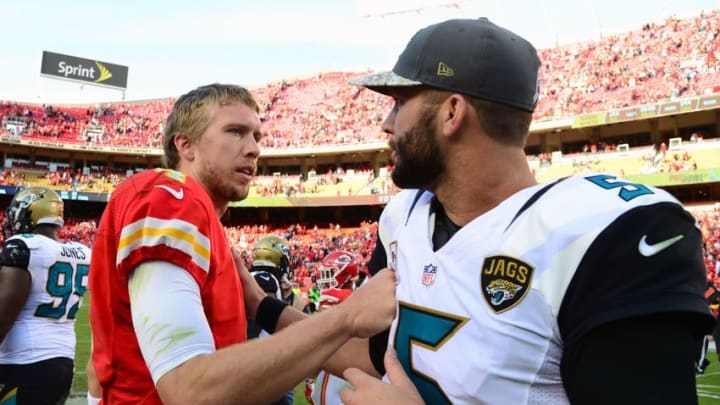 Nov 6, 2016; Kansas City, MO, USA; Kansas City Chiefs quarterback Nick Foles (4) talks with Jacksonville Jaguars quarterback Blake Bortles (5) after a game at Arrowhead Stadium. The Chiefs won 19-14. Mandatory Credit: Jeff Curry-USA TODAY Sports /
The Jacksonville Jaguars avoided the blowout today on the road, but they still lost in embarrassing fashion to the Kansas City Chiefs.
It was a different type of painful, but the Jacksonville Jaguars were right back to their old ways in a pathetic 19-14 loss to the Kansas City Chiefs. Shorthanded but still prepared, the Chiefs took advantage of some costly turnovers by the Jacksonville offense while Blake Bortles continues to struggle in what's become a pivotal year in his career.
More from Jacksonville Jaguars News
The way the Jaguars lost this week was different, but the result is still the same. The offense was finally able to run the ball, but Bortles still missed big opportunities down the field. The defense held the Chiefs offense in check, but they didn't force any turnovers and the sacks and pressures were few and far between.
Here are some more quick notes from today's loss:
The Kansas City Chiefs were without their starting quarterback (Alex Smith) and starting running back (Spencer Ware), and they lost their number one wide receiver (Jeremy Maclin) and Pro Bowl tight end (Travis Kelce). The offense was held together by duct tape and they played that way – Nick Foles was only able to lead the Chiefs to 231 total yards on offense. Against any other team in the NFL, the Chiefs lose this game by a considerable margin. Luckily they were playing a Jaguars squad with absolutely no semblance of confidence or competence on offense. The Chiefs took advantage of some horrific Jacksonville turnovers, with all of their points coming off Jacksonville turnovers or miscues. The costliest one was Chris Ivory's fumble as he crossed the goalline that probably should have been ruled a touchdown. It was a mishap that had everyone on Twitter saying "that's so Jaguars."
While it should absolutely be taken with a grain of salt given the significant injuries to the Chiefs offense, the Jacksonville defense did a good job of keeping this game close, only allowing Nick Foles to convert 1 of 14 third downs. As an aside, how insane is it that a team can play that well in terms of third down defense and still lose a game?
Solid is a legitimate way to describe the defense's performance, but they were far from spectacular. They had another comically bad moment when Tashaun Gipson absent-mindedly ran into Prince Amukamara on an easy interception and knocked the ball loose. The pass rush is still inconsistent, with Dante Fowler Jr. in particular not doing anything of note. With the offense in shambles, the defense needs to step up and make some plays if this team is going to win games.
Blake Bortles is still bad. It's not an in-depth analysis, but the young QB is still missing easy throws, especially early on in games. He got into a little bit of a rhythm in the 4th quarter (and it wasn't garbage time this week), but it was too little too late. If this offense was in sync at all this game could've been a blowout – Bortles missed an easy 60+ yard touchdown to Allen Robinson and Ivory's fumble should have been a touchdown.
While there weren't any egregious coaching mistakes that stick out from the game, losing winnable games like this still falls on the coaching staff. Nathanial Hackett actually had an alright game calling plays for the most part, but he wasn't the magic cure-all Gus Bradley was hoping for. At 2-6, the Jaguars season is effectively over.