Blake Bortles will be back in 2017, but needs to show more over the rest of the season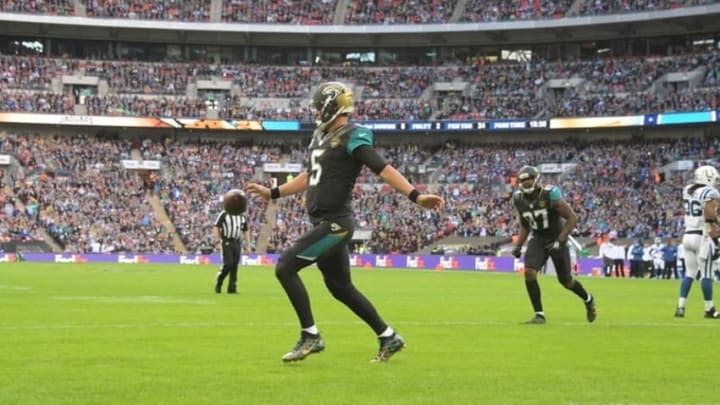 Oct 2, 2016; London, United Kingdom; Jacksonville Jaguars quarterback Blake Bortles (5) kicks the ball into the crowd after scoring on a 1-yard touchdown run in the second quarter against the Indianapolis Colts during game 15 of the NFL International Series at Wembley Stadium. Mandatory Credit: Kirby Lee-USA TODAY Sports /
Blake Bortles looked poised to become one of the top young quarterbacks in the NFL heading into the 2016 regular season, but his performances over the first 4 games have brought into question his future with the team.
The Jacksonville Jaguars haven't had a rich and storied history of elite quarterback play since their inception in 1995. Mark Brunell helped the franchise make some noise in the late 90's, but he was never a top 10 QB statistically. David Garrard also led the team to the playoffs, but he was essentially a game manager with some mobility. Outside of those two, the Jaguars have had objectively bad quarterback play.
With that in mind, forgive fans (myself included) who wanted to anoint 2014 first round pick Blake Bortles as a franchise quarterback after a magnificent 2015 campaign. His 35 touchdowns (2nd in the NFL) and 4,000+ yards passing were something we haven't seen ever in a Jaguars uniform. He had a penchant for the big play, even if it meant the occasional boneheaded interception. Bortles definitely showed he had areas to improve in, but his play was exciting enough for almost everyone to discount his development as a big factor in 2016.
Four games in with the Jaguars sitting at 1-3, it's clear that Bortles is far from a finished product. His play has been mediocre bordering on awful. It's fair to say he's hurt the team more than helped for the most part.
His struggles have led some to ask the question – is Blake Bortles going to be the unquestioned quarterback of this team in 2017?
More from Jacksonville Jaguars News
Bill Barnwell over at ESPN ventured to answer this question and his answer was fairly straightforward:
"Likelihood of Bortles leaving: zero percent"
This makes sense and Barnwell goes into detail as to why – the Jaguars don't need to make a decision on him this year given his contract and his impending fifth-year option. Barnwell also does a good job of explaining why Bortles' future is being questioned in the first place:
"Bortles showed some signs of improvement in 2015, leaving some to suggest this offseason that he was on the cusp of superstardom. Others (including myself) were skeptical, and so far, the skeptics have it. Bortles has looked out of sorts during an ugly start to the season, throwing six picks in four games while posting an opponent-adjusted QBR of 51.5, which is 25th among 30 qualifying passers.What's more troubling than the numbers, though, is how uncomfortable Bortles has looked. His mechanics are erratic — he'll look entirely erratic one drive before his footwork returns to form later on, like a switch was flipped. Bortles has unquestionable raw talent, but whether it's a porous offensive line reinforcing bad habits and/or subpar coaching, he isn't developing."
In short, Bortles has been bad so far in 2016. The signs of improvement he showed in 2015 haven't really shown up so far this year – last year his horrendous mistakes were at least somewhat balanced out with the big flash plays. Those passes down the field haven't connected so far this year and it's really bogged down what was one of the more exciting offenses over the course of the 2015 season.
One other thing Barnwell mentioned caught my attention:
"They obviously have the receivers, and for the first time since Gus Bradley came to town, the defense actually looks good, as Jalen Ramsey & Co. are 10th in DVOA. It's still not clear whether the Jaguars are holding Bortles back, or if it's actually the other way around."
The Jaguars certainly look improved defensively – the unit now appears to be good enough to help this team contend for a playoff spot, but the offense has regressed. The interesting comment from that analysis is the last bit – Barnwell seemingly hints at a coaching deficiency hampering Bortles' development. While the lion's share of the blame for his struggles lies on his shoulders, Bortles' lack of comfort in some part has to reside with the coaching he's getting.
Regardless of where the blame lies, Bortles needs to show improvement over the last 12 games of the year or the front office will be forced to consider other options in 2017.