Jacksonville Jaguars Week 5 Power Rankings: Coasting on bye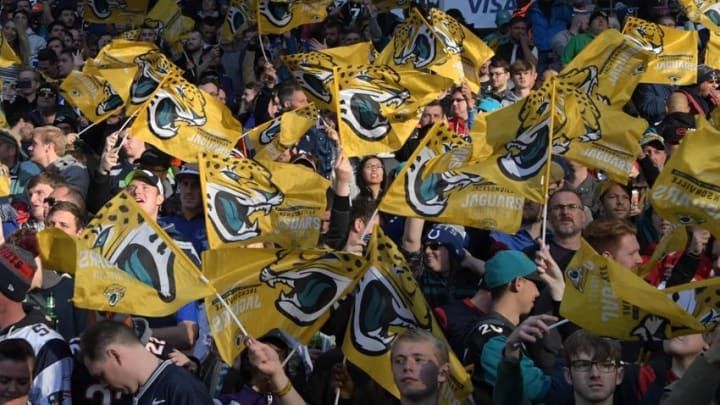 Oct 2, 2016; London, United Kingdom; Jacksonville Jaguars fans wave flags during game 15 of the NFL International Series against the Indianapolis Colts at Wembley Stadium. Mandatory Credit: Kirby Lee-USA TODAY Sports /
With a week off to let other teams get ahead of them and look decent, the Jaguars are at the mercy of the power rankers around the web this week.
The Jacksonville Jaguars had some extra time to relish their first victory of the season against the Indianapolis Colts this past week, but their break is over. Sitting alone in last place of the AFC South, the Jaguars have to defeat the Chicago Bears this week on the road in order to have hope of competing in the division.
So while the Jaguars sat at home this week, two teams in the division (the Indianapolis Colts and the Tennessee Titans) moved ahead with wins. Consequently, it's not shocking that the Jaguars didn't exactly jump up most power rankings.
More from Jacksonville Jaguars News
Here's a brief collection of some rankings around the web as the Jaguars return from their bye week and roll into week 6:
"27. Jacksonville Jaguars (last week: 28)Jacksonville, unlike the Colts, received a bye following its trip to London. The Jaguars remain toward the bottom of the league at 1-3, though."
"25JaguarsThey come off their bye with a road game at Chicago and a division that's wide open. When does the offense get it going?"
"24. Jacksonville JaguarsThe Jags got a bye fresh off the game in London, which is normal … Well, unless you're the Colts. Taking the weekend off after playing overseas makes sense, even if a Week 5 bye is not ideal (too early). Wonderful that Jacksonville finally landed in the win column, and the bye gave Julius Thomas' elbow a chance to heal, but can we get Chris Ivory going? The prized free-agent acquisition has 20 carries for 43 yards. #getexcited"
"30. Jacksonville Jaguars2016 record: 1-3Week 5 ranking: 23Gus Bradley survived the trip to London, but with a 13-39 career record in Jacksonville, his days always seem to be numbered. The Jags head to Chicago in Week 6, and a loss to the reeling Bears would keep the Jags in the AFC cellar."
My take:
Most of these rankings pin the Jaguars in the correct range, but it is worth noting the pure comedy that is the "logic" used by the ESPN power rankers. The Jaguars have a week off after a win and they drop SEVEN spots in the rankings. The Colts went up to 21 after an underwhelming win against the Bears, and the Titans moved up to 26 after defeating a hapless Dolphins squad.
Good thing these are meaningless.