Jacksonville Jaguars: 5 Questions for Week 3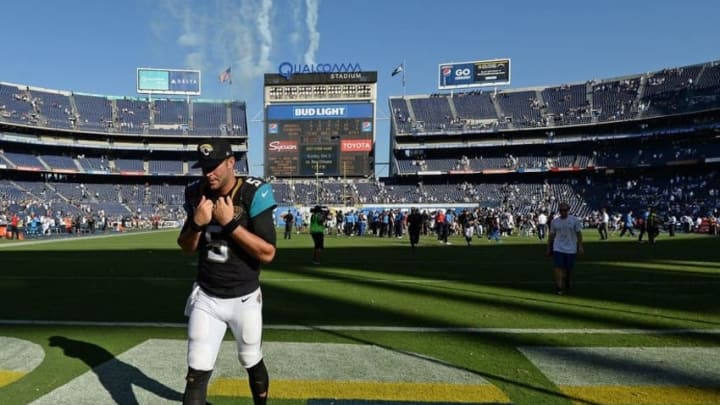 Sep 18, 2016; San Diego, CA, USA; Jacksonville Jaguars quarterback Blake Bortles (5) walks off the field after a 38-14 loss to San Diego Chargers at Qualcomm Stadium. Mandatory Credit: Jake Roth-USA TODAY Sports /
Sep 18, 2016; San Diego, CA, USA; San Diego Chargers quarterback Philip Rivers (17) is pressured by Jacksonville Jaguars defensive end Dante Fowler (56) during the second quarter at Qualcomm Stadium. Mandatory Credit: Jake Roth-USA TODAY Sports /
Can the Jacksonville Jaguars get after the passer?
A strip-sack for Yannick Ngakoue and two sacks for Dante Fowler Jr. make it sound like they had a solid day harassing Philip Rivers in Week 2. That simply wasn't true. Those numbers hide how futile the pass rush truly has been.
This, after a depressing Week 1 game in which Fowler and Ngakoue were left sack-less.
The Jags have just four sacks to their name so far this season. That's two per game on average and it simply won't cut it. If the team is going to rely on the defensive ends to generate pressure all season then maybe they deserve to be cut up by the better quarterbacks in the NFL.
Todd Wash and Gus Bradley need to come up with a way for the defense to manufacture a pass rush. Whether that's bringing blitzes from Jalen Ramsey or another secondary player, bringing five of the front seven, or in other ways getting more players involved in harassing the QB. The defense has never delivered productive pass rushing defensive ends and it's time to address it.
Joe Flacco can carve up any defense and giving him time is going to make the Jags' D look like  Swiss cheese. Help the secondary out and make something happen up front.