Jacksonville Jaguars: 5 Questions for Week 3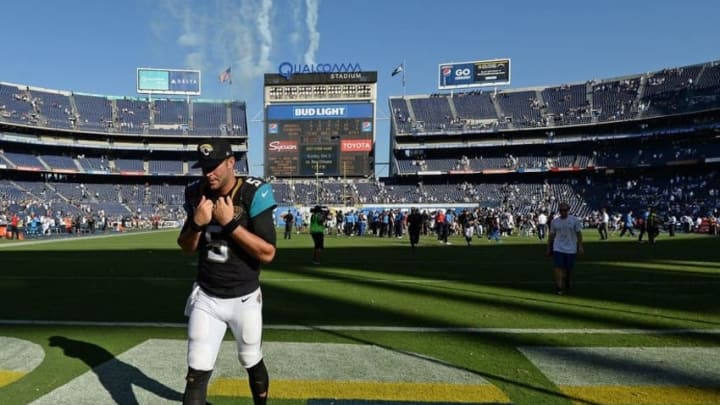 Sep 18, 2016; San Diego, CA, USA; Jacksonville Jaguars quarterback Blake Bortles (5) walks off the field after a 38-14 loss to San Diego Chargers at Qualcomm Stadium. Mandatory Credit: Jake Roth-USA TODAY Sports /
Sep 18, 2016; San Diego, CA, USA; Jacksonville Jaguars wide receiver Allen Hurns (88) cannot make a third quarter catch as San Diego Chargers strong safety Jahleel Addae (37) defends at Qualcomm Stadium. Mandatory Credit: Jake Roth-USA TODAY Sports /
Will the Jacksonville Jaguars go vertical?
While the missed tackles were disappointing, the almost complete abandonment of the vertical passing game was truly bizarre.
After dominating the deep throws all season in 2015, offensive coordinator Greg Olson ridiculously decided to sling it horizontally on play after play after play against the Chargers in Week 2 of 2016. This came on the heels of losing Week 1 on a fourth down wide receiver screen pass.
Running back T.J. Yeldon was second on the team with nine targets and led the team with eight receptions in Week 2. He gained a total of 10 yards on those receptions. Yeldon leads the team with total receptions through two weeks.
How Allen Robinson and Allen Hurns aren't as involved is baffling. Yes, there have been targets (10 for Hurns in Week 2, 15 for Robinson in Week 1), but there needs to be some manufacturing to make sure they are a bigger part of this offense. They made miraculous catches week after week last season, but they may need a bit better play calling in 2016 now that they demand increased attention from defenses.
When a team has dominant receivers (including tight end Julius Thomas) and a big-time quarterback (arguably top-10) and absolutely no running game, the vertical passing attack needs to open up shorter throws and not the other way around. Olson called a bad game in Week 2 and he needs to return to what made 2015's offense arguably the best he has ever coordinated.