Jacksonville Jaguars: 5 Questions for Week 3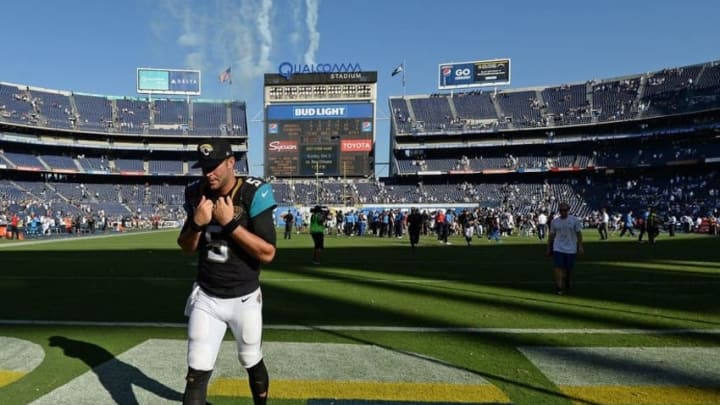 Sep 18, 2016; San Diego, CA, USA; Jacksonville Jaguars quarterback Blake Bortles (5) walks off the field after a 38-14 loss to San Diego Chargers at Qualcomm Stadium. Mandatory Credit: Jake Roth-USA TODAY Sports /
Jacksonville Jaguars vs Baltimore Ravens is a winnable game, but some serious questions must be answered before the Jaguars hope to get the W.
It's difficult to win when your team comes out and plays as poorly as the Jacksonville Jaguars did in Week 2 against the San Diego Chargers. To call them "flat" would be a gross understatement.
And yet that is the kind of performance that lingers in the back of Jags fans each and every week. This team isn't all that far removed from only two wins or three wins in a season. While 5-11 was a pleasant surprise, it certainly isn't a guarantee in year four of the Gus Bradley era.
There were some blatant concerns in Week 2 that will be carried over for Week 3. They need to be addressed if the Jags hope to beat the Baltimore Ravens. They won't be guaranteed another fluke facemask call and long filed goal with zeros on the clock to win the game.
If the Jags can get the answer to these questions right, then this should be a win (even with the Ravens at 2-0 coming into the game). If they can't, then the fear lingering in the back of Jags' fans minds may become reality once again.
Sep 18, 2016; San Diego, CA, USA; Jacksonville Jaguars middle linebacker Paul Posluszny (51) looks on pre snap during the second half of the game against the San Diego Chargers at Qualcomm Stadium. San Diego won 38-14. Mandatory Credit: Orlando Ramirez-USA TODAY Sports /
Can the Jacksonville Jaguars tackle?
Perhaps the most disappointing thing to see in the game against the Chargers was just how poor the Jaguars were tackling. It seemed that receivers could slip through arms on each and every down and running backs could break through three or four players before being brought down.
While a lot of attention is placed on middle linebacker Paul Posluszny's failures in pass coverage, his tackling ability is clearly needed on the team. He was arguably the only dependable tackler in the game, finishing with 11.
Strong safety Johnathan Cyprien's misses were particularly egregious but it wasn't just him. The Jags were sloppy through and through and need to get better.
For a team headed by a former defensive coordinator, there is nothing worse than seeing the fundamentals deteriorate. The Jags need to address this problem if they hope to win (or even keep the games close).