Should the Jaguars give TE Evan Engram a long-term deal?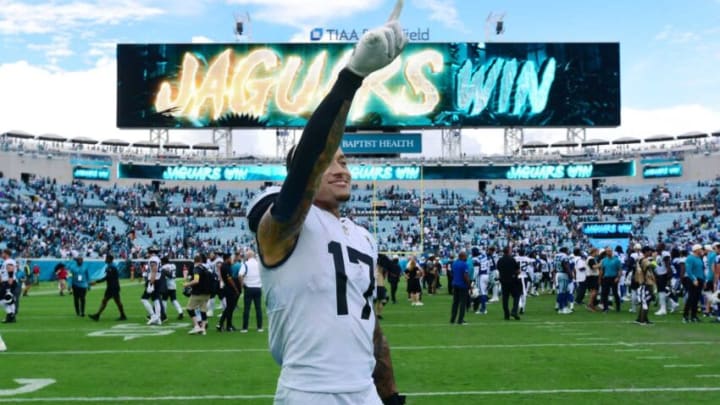 Jacksonville Jaguars TE Evan Engram at TIAA Bank Field. [Bob Self/Florida Times-Union] /
The Jacksonville Jaguars addressed an important need in the offseason when they signed tight end Evan Engram in free agency. Given how productive he's been in 2022, re-signing him seems like a no-brainer. However, the Jags might be working with a limited amount of cap space next offseason, so a return to Jacksonville might not be a sure thing. Having said that, the Jags need to do what they can to sign him to a long-term deal.
Engram says he's open to returning to Jacksonville and the Jaguars would also benefit from bringing him back. After all, he's already developed a connection with Trevor Lawrence and is immersed in Doug Pederson's system. Thus, his return would allow for a certain level of carryover on offense next year. Also, bringing Engram back would allow the team's brass to focus on other position groups in free agency and the draft, maybe cornerback or edge defender.
The problem with re-signing Engram is that he will most likely want to get a top-market contract. He wanted a one-year deal because he wanted to bet on himself and it paid off. He won't likely return if he doesn't get an offer he deems low. Similarly, he will probably be in demand if he becomes a free agent.
What kind of contract could Jaguars TE Evan Engram get?
Darren Waller signed a three-year contract with the Las Vegas Raiders that pays him an average of $17 million per season. George Kittle (San Francisco), Travis Kelce (Kansas City Chiefs), Mark Andrews (Baltimore Ravens), and Dallas Goedert (Philadelphia Eagles) also have an average annual salary of at least $14 million. It wouldn't be shocking if Engram is aiming for a contract that pays him that amount yearly.
Keep in mind that players are worth whatever teams are willing to pay them and if Engram has a breakout season, there will be a market for his services. The Jaguars could offer him a three-year deal worth somewhere between $35 million and $40 million. Anything over that amount might not be feasible.
The Jags are set to be $400,000 in the red next season and even after restructuring a few contracts and releasing a handful of players, they may not have enough cap space to re-sign Engram. One alternative would be to give him a big signing bonus and spread it over the duration of the contract. General manager Trent Baalke has previously taken this road, so it wouldn't be shocking if the Jags do the same with Engram.
On the other hand, giving Engram a multi-year contract will make it difficult for the Jags to also bring back right tackle Jawaan Taylor, wide receiver Marvin Jones Jr. and/or edge defender Dawuane Smoot.
If the Jaguars aren't particularly high in the 2023 tight end class or there's a prospect they want to target early in the draft, re-signing Engram makes the most sense. This isn't an easy choice and it's one the team's brass will need to assess in the upcoming months.