Jaguars Draft Day 2: Ranking 3 Options at No. 65 and 70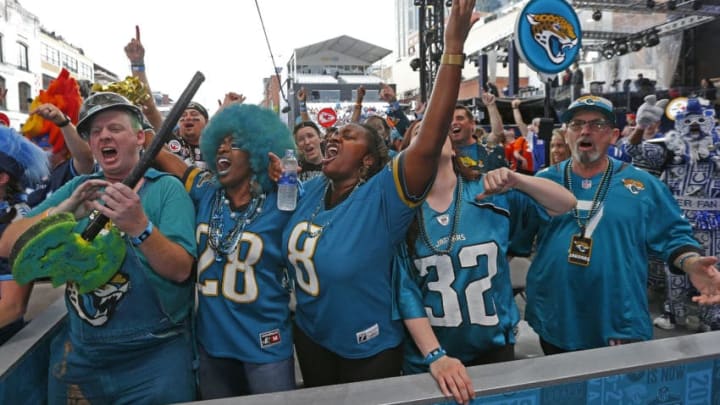 Fans of the Jacksonville Jaguars on Day 1 of 2019's draft (Photo by Frederick Breedon/Getty Images) /
JACKSONVILLE, FLORIDA – FEBRUARY 05: Doug Pederson looks on during a press conference introducing him as the new Head Coach of the Jacksonville Jaguars alongside Shad Khan, Owner of the Jacksonville Jaguars, and Trent Baalke, General Manager of the Jacksonville Jaguars (Photo by James Gilbert/Getty Images) /
The Jacksonville Jaguars had quite a Day 1 yesterday during the NFL Draft, but they can knock it out of the park on Day 2.
The offseason speculation surrounding the Jaguars' first overall pick finally came to an end in Las Vegas yesterday. General manager Trent Baalke went with potential over proven college production by drafting Georgia's Travon Walker over the consensus top prospect, Michigan's Aidan Hutchinson.
As Day 1 unfolded, Baalke wasn't done in the first round by trading up to the 27th pick and selecting Utah's Devin Lloyd, giving their linebacker group a major boost. Though the organization gave up the first selection of the round (33rd overall), Lloyd has a motor that simply doesn't stop and will bring versatility to Mike Caldwell's defense with the ability to play the MIKE slot but can also line up outside or rush off the edge as well.
That entire development aside, Day 2 will offer plenty of solid options as well. Assuming that Baalke doesn't move around in the second round, they'll be picking at numbers 65 and 70. The Jaguars can address their offense after taking a talented defensive lineman with the makings of a difference-maker and following it up with a brilliant linebacker.
So who do they take? Well, as mentioned throughout the offseason, this year's draft class is loaded with offensive line prospects. The Jaguars will have an opportunity to pick up a potential future starter, whether it's a pure guard or tackle, or perhaps a swing offensive lineman. Another route worth exploring will be wide receiver. Baalke was busy this offseason adding wide receivers, but this class could end up providing a potential weapon for Trevor Lawrence.