Jaguars must manage expectations and have future success in mind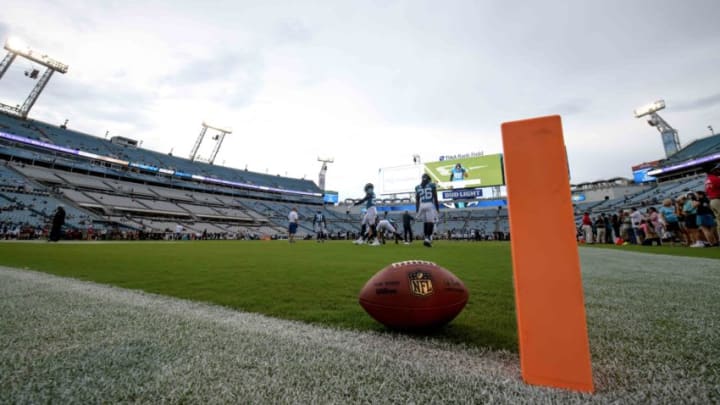 General view of TIAA Bank Field, home of the Jacksonville Jaguars. (Douglas DeFelice-USA TODAY Sports) /
As evidence has shown, there isn't just one way to build an NFL roster and different teams have taken a different approach They are those that are willing to give up years worth of draft picks to get players, believing they can create a squad that's going to hoist the Lombardi trophy. However, it will be a while before the Jacksonville Jaguars join any conversations about becoming contenders. That's why managing expectations can lead to a better feeling of where this team is headed.
The NFL has been trying to find ways to change the game to become more appealing to newer generations. Offenses are scoring more points than they have in years past and passing offenses are taking off while running and stopping the run — while still important — have taken a back seat. And that's something the Jags have kept in mind when building putting together their current roster.
The Jaguars must build with the future in mind.
I would worry about building a team that is consistent on the field. The professional level of competition is some of the best in the world. I don't agree with trading all the well-known players around to different teams. On the other hand, I can understand why teams trade asses, such as draft picks, for proven players. After all, the right trade can help propel a team to the Super Bowl.
I would say that the Jaguars are in a position to build a great team. They have a quarterback that a lot of teams would kill to have. Throughout the offseason, the focus has been on giving some weapons to Trevor Lawrence to grow with. They also wanted to get their young quarterback better protection. Trent Baalke and coach Pederson have been spending money to make sure this happens. The upcoming draft a few weeks away will show us how committed the front office is to get the team back to relevancy.
When will the Jaguars become competitive?
In all honesty, the Jaguars are two or three seasons away from being competitive. Of course, fans would welcome a quick turnaround. If the players are going to be successful on the field they need someone that has the experience to do so. Everyone in the front offices wants to build Jacksonville into a respectable franchise. Too many times has this team been the heel of jokes.
With recent more Urban Meyer accusations about the toxic environment, the Jaguars didn't stand a chance last year. The situation fans had to watch last year was worse than we thought. He was ill-prepared for finding any success at the professional level. Looking back a head coach with NFL experiences would have been a better option. Shad Khan chose to pick up Meyer to make a splash move to draw some attention to the franchise.
Like I said before, there are real positive changes made this offseason. A few players were willing to come to Jacksonville to play for coach Pederson. His reputation as a player's coach will make it more appealing to players.
So now, I will ask, are you willing to be a little more patient with the development of the team? There have been years that there was a strong sense of optimism and this year feels a little different. When have the Jaguars had a head coach that knew what he was doing?