Aidan Hutchinson can make Jaguars' pass rush fearsome in 2022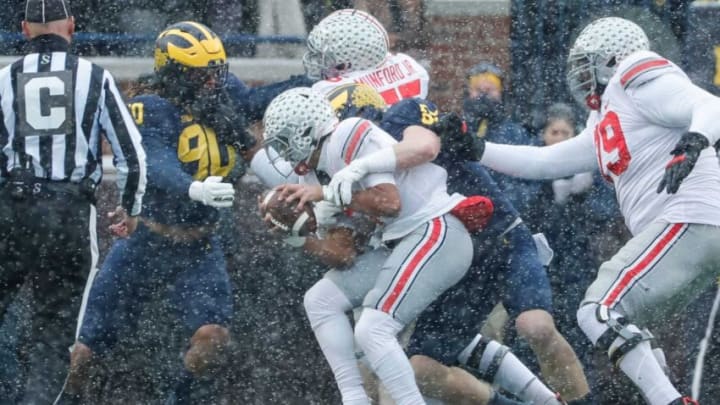 DE Aidan Hutchinson of Michigan (Photo by Detroit Free Press) /
Aidan Hutchinson is the other pass rusher the Jaguars need in the 2022 NFL Draft.
The Jacksonville Jaguars already have a top-flight pass rusher in Josh Allen, but drafting Michigan's Aidan Hutchinson would make for a dynamic Jags duo. Most recently, the Wolverine put together a legendary performance in a thrilling victory against the Ohio State Buckeyes — the school's archrival.
As a result of Hutchinson's efforts this past Saturday, he has gained considerable attention from various media outlets regarding his surging 2022 NFL Draft stock. However, while his most recent showing was impressive, his commitment to both furthering and upholding his family's legacy may turn your head even more.
The Jaguars would love Aiden Hutchinson's commitment.
For a player whose entire family attended the University of Michigan, Hutchinson has been fully committed to his family's legacy since Day 1. In a collegiate preseason interview with the Big Ten Network's Mike Hall, the Wolverine standout spoke candidly on how much being drafted at the NFL level would mean to him, in addition to how he did not really have a choice to attend Michigan.
Words and interviews aside, the star pass rusher has put together an impressive final collegiate run in Ann Arbor, Michigan, this season. College football's potential defensive Heisman candidate in 2021 has bounced back in a big way after missing the majority of his junior season in 2020 due to injury.
On the year, Hutchinson has amassed 12 sacks and 14.5 tackles for loss in 12 regular-season games. The Michigan standout is a powerful player who has shown that he is starting to incorporate finesse techniques in his arsenal to become a complete pass rusher.
For the Jaguars, a player of his character and talent will give the team a tough choice to pass up on depending on their final draft position. But, ultimately, if Jacksonville wants to put their defense back on the map akin to the 2017 season, there is no better place to start in the 2022 NFL Draft other than Aidan Hutchinson.