Jaguars top three scenarios to trade down from 25th pick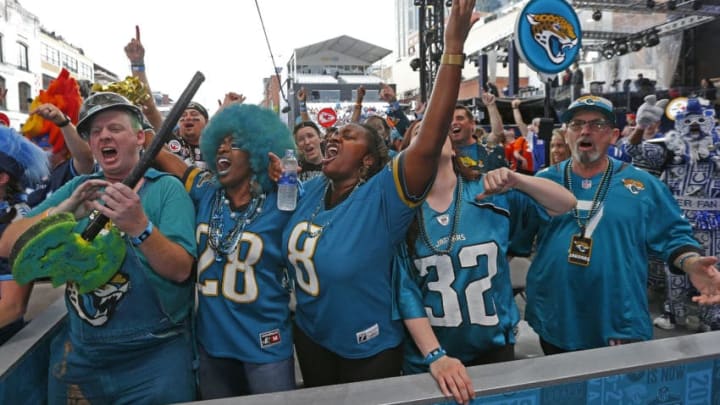 Fans of the Jacksonville Jaguars on Day 1 of 2019's draft (Photo by Frederick Breedon/Getty Images) /
The Jacksonville Jaguars can consider themselves comfortable with their current draft situation. They have 10 total picks scattered throughout the draft, with the sixth round being the only round where they are not set to make a selection.
This is a period of rebuild for Jacksonville and they should take advantage of that as much as possible. The Jaguars should consider trading down from the 25th overall pick and pick up more capital for later in the draft.
The situation proposed here is that the Jaguars either slide down a few spots with their second pick of the first round or move down from the 25th overall pick to the second round.
*I analyzed pick compensation from the past few drafts in terms of first-round trades to propose these trade scenarios.
Scenario #1
Jaguars trade #25 to the Green Bay Packers for picks #29, #143 (fourth-round), #215 (sixth-round).
The Green Bay Packers currently own the 29th overall pick in the draft and have the tendency to move around the first round. Last year they moved up four spots in a trade with the Miami Dolphins to select quarterback Jordan Love. In 2018, the Packers moved up nine spots in a trade with the Seattle Seahawks to select cornerback Jaire Alexander.
The Packers desperately need a top wide receiver on their roster. The 2016 NFL Draft was the last year they did not make a trade in the first round.
Scenario #2:
Jaguars trade #25 to the Baltimore Ravens for picks #27 and #132 (fourth-round).
The Baltimore Ravens have also traded up and down in the first round during the past few drafts. While this draft has a deep wide receiver class, the Ravens could see the value in trading up for a top wider receiver. They very likely could be in position with the 27th overall pick but may want to jump up a few spots to guarantee they get their guy especially if the Jaguars are looking to take a wide receiver at some point as well.
Scenario #3:
Jaguars trade #25 to the New York Jets for picks #34 (second-round) and #108 (fourth-round).
The New York Jets are in the midst of a similar rebuild to that of the Jaguars. Like Jacksonville, New York is expected to take a quarterback, specifically Zach Wilson, with their first pick in the draft at number two overall. There's a lot of waiting between picks two and 34. The Jets do have the 23rd overall pick as well but if they see a prospect they have their eye on fall in the first round, they could make the jump.