Are we asking Jaguars QB Nick Foles to do too much?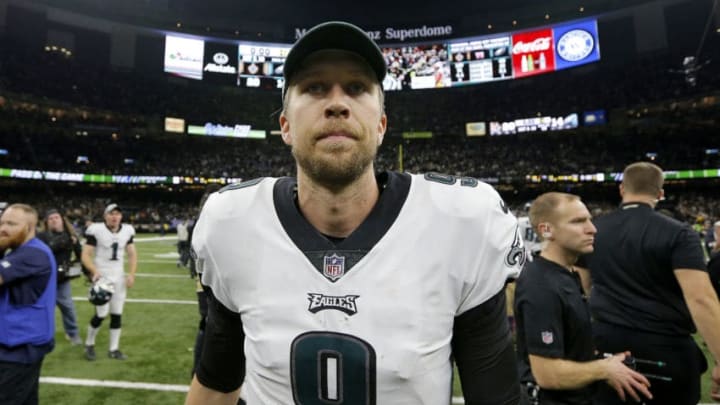 NEW ORLEANS, LOUISIANA - JANUARY 13: Nick Foles #9 of the Philadelphia Eagles reacts after his teams loss to the New Orleans Saints in the NFC Divisional Playoff Game at Mercedes Benz Superdome on January 13, 2019 in New Orleans, Louisiana. The Saints defeated the Eagles 20-14. (Photo by Jonathan Bachman/Getty Images) /
Are the Jaguars organization, the fan base, and the national and local media asking quarterback Nick Foles to be a miracle worker in Year 1 with the franchise?
As I read various stories about the Jaguars offseason and the work quarterback Nick Foles is putting in as the team's new leader, I wonder if we are all expecting too much from the 30-year-old signal caller.
Are we as a fan base of the belief he will single-handedly bring a Super Bowl title to North Florida? What happens if he doesn't and does more than his predecessor Blake Bortles, but still doesn't get this franchise to a title game or beyond? Will the $88 million the Jaguars invested in a fresh start be worth it?
After listening to the front office, the coaching staff and players rave about how Foles has come in and become "the guy" in the locker room, that he has galvanized the offense and challenges the defense on a regular basis, it becomes more apparent the new quarterback under center is nothing like the old one – which is something the Jaguars organization needed to get away from if it had any chance of becoming a better offense team.
There are still analysts out there who see the Foles signing as a huge risk. The reward is great, but what if Foles is merely average?
More from Jacksonville Jaguars News
Kristopher Knox of Bleacher Report recently wrote that the Foles deal was the riskiest move the Jaguars made this offseason. There is no reason to disagree with him. In my opinion, it was the right move as well.
""The Jaguars gave Blake Bortles a contract extension last offseason…and, yep, he's already gone. Jacksonville replaced him this offseason by signing former Eagles backup Nick …," Knox writes."Is Foles an upgrade? Well, possibly. He played well for Philadelphia the last two seasons, even leading the Eagles to a championship and winning MVP honors in the process. However, his resume away from Philadelphia isn't so shiny.""
The Jaguars aren't as interested in what Foles did away from his time in Philadelphia as they are in the Super Bowl MVP and title he brought to a city that loves its football. It was mentioned by Tom Coughlin, the Jaguars Executive Vice-President of Football Operations when Foles was introduced to the team and city of Jacksonville.
""Adding Nick to our roster has made our team better," Coughlin said. "Everything we do going forward will be with the intent of improving our team and preparing for the 2019 season. With singleness of purpose and with the concept of team above self, our goal is to bring a Super Bowl Championship here to Jacksonville.""
There are some concerns as this will be another opportunity to lead a team from the start of the season to end. While Foles has come in hot the past two years, it has been in a backup role. And with no experienced signal caller behind him, it will Foles who must will this team to victory.
What Jacksonville cannot have is a season like 2015 with the Rams.
""Foles started 11 games for the St. Louis Rams in 2015 and posted Bortles-like numbers. He passed for 2,052 yards that season while throwing seven touchdowns, 10 interceptions and posting a passer rating of 69.0," Knox added."
If Foles gives Jacksonville an average season and statistics that are more in line with his time in Philadelphia, the Jaguars should compete for a playoff berth. If not, it could be one of the biggest questionable moves the franchise has ever made. I'm not betting against Foles and the Jaguars. But I am not better they will instantly return to the AFC Title Game yet either.
One thing is for sure – it all rests on Foles and his arm, and his most recent success.