The Jacksonville Jaguars face the best NFL team the New England Patriots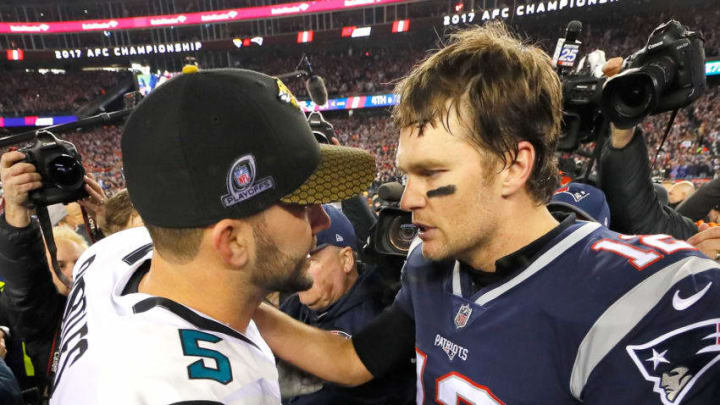 FOXBOROUGH, MA - JANUARY 21: Tom Brady #12 of the New England Patriots shakes hands with Blake Bortles #5 of the Jacksonville Jaguars after the AFC Championship Game at Gillette Stadium on January 21, 2018 in Foxborough, Massachusetts. (Photo by Kevin C. Cox/Getty Images) /
Jacksonville Jaguars fans, writers, and players are talking championship. However, there is an old adage that states in order to be the best you have to beat the best. There is no question that the Brady/Belichick version of the New England Patriots is the best.
The Jacksonville Jaguars will host the New England Patriots on Sunday from TIAA BAnk Field. If the home team is to earn a victory, here are some things to consider.
Let's look at the Patriots.  They may not be Super Bowl champion every year but they are always in the mix.
Therefore the biggest question is what is the secret to beating the Patriots?  One comment from the New York Post is "play them in September."  The rationale is that with the limitations placed on training camp Bill Belichick doesn't have all his ducks in a row.
More from Jacksonville Jaguars News
Let's look at some other ideas.
Study study study
"The New York Post added this comment.  "Understand that Bill Belichick and Tom Brady know everything about you and your players.""
No doubt they spend large amounts of time studying film, isolating individual players, and defining the strengths and weaknesses of every player and coach.
All coaches study but there is little doubt that Belichick and Brady have taken it to a new level.
Pressure Tom Brady
In a story entitled How to Beat the New England Patriots, SI.com points out the pressure Brady idea is a common idea.
Eric Weddle of the Ravens said:  "Look at the times  Brady has had not so stellar games-those have been when he's been hit."
"Kawann Short added: "You've got to rattle Tom.  Hit him every play; get that man out of his comfort zone.""
The Jacksonville Jaguars have the personnel to make this happen.
The Patriots take away your best player
Alejandro Villanueva gives advice on how to beat the Patriots discusses the strength of the Patriots.
Villanueva pointed out that the Patriots ability to take away one of your strengths makes you one dimensional.  To start a Jaguars fan would assume that the Pats will take away our running game and force Bortles to pass.
How do the Jaguars win?
First fortune smiled on the Jaguars and scheduled the game versus the Patriots in September. Also, our coaches and players need to study study study so they will be hyper-aware of their opponent. Next, our defense needs to make Brady uncomfortable and keep him from getting into a rhythm.
Finally, we need to be prepared for them to make the Jaguars one dimensional and find ways to counteract that.  Conservative play calling will not be successful as we learned in the fourth quarter of our games last season.
A few surprises will confuse them.  (We hope)
The Final word
MYLES JACK WASNT DOWN!