The Jaguars Deserve a Prime Time Game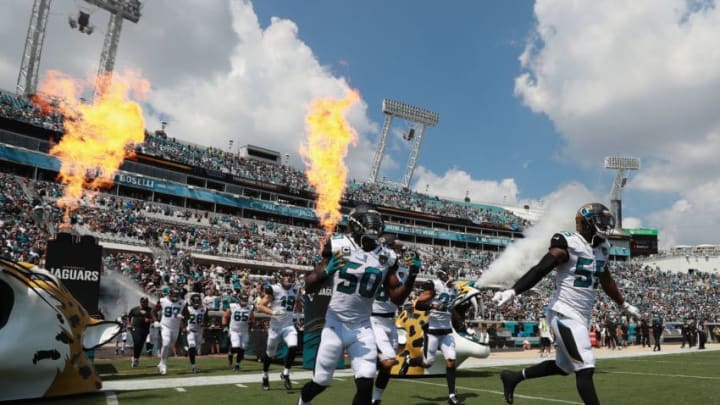 JACKSONVILLE, FL - SEPTEMBER 17: The Jacksonville Jaguars take the field prior to the start of their game against the Tennessee Titans at EverBank Field on September 17, 2017 in Jacksonville, Florida. (Photo by Logan Bowles/Getty Images) /
The Jacksonville Jaguars do not have a nationally televised game this year, does the NFL regret it?
Recently when given the national spotlight, the Jags have been a bit of a disappointment. Poor performances include a blowout by the Tennessee Titans in the last installment of the almost annual Jaguars vs. Titans Thursday night matchup. Safe to say this was one of the reasons why the NFL decided to skip the Jags for a prime time game.
However this season it has been a different story, the Jags have been fun to watch on Sundays. Below are a few reasons why the Jags deserve a nationally televised game.
First the Jags defense has been must see tv on Sundays. The team is leading the NFL in several areas including takeaways and sacks. As the season unwinds a chance to tie or pass the NFL team sack record is a real possibility.
Secondly, the NFL should regret not scheduling the Thursday night game against Tennessee. The matchup week sixteen will be the most important in recent memory. These are a few reasons why the Jags deserve a prime time game.
Unfortunately this lack of exposure also has a negative impact on the team. One reason this is a negative is how it could impact rookies like Leonard Fournette.
One area where it could hurt Fournette is with the race for national awards. Our talented rookie does not get as much exposure as fellow rookies Deshaun Watson and Kareem Hunt. Fournette has fundamentally changed the Jags offense and seeing his highlights just Isn't enough to understand what he is doing for this team.
Overall the NFL should regret not giving the Jags a nationally televised game. In a season where the Detroit Lions have more games in prime time games than the Jags is unacceptable. The Jags are a talented team and as the season continues expect Jacksonville to remember the NFL schedule makers picked them over.